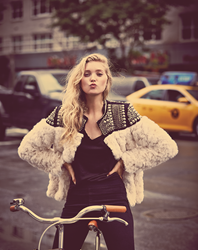 (PRWEB) September 12, 2014
Specialty clothing brand, Free People, has remodeled its space in San Antonio, Texas. The boutique, growing in size, received an Intimately Free People shop, new fitting rooms, and an updated cashwrap, backwrap, and interior design. Originally 1,900 square-feet, the remodeled boutique has expanded to 2,600 square-feet, making it the brand's largest location in Texas.
The store is carrying a wide assortment of merchandise after the remodel, including a full Intimately Free People shop. Jackets, sweaters, knits, and denim are big items for fall, and this season, the boutique focuses heavily on the menswear trend, pairing slouchy cardigans with bold denim. The store is also staying true to the quintessential Free People girl, carrying feminine pieces such as dresses, slips, camis, lace, and floral prints for fall.
San Antonio's updated look is inspired by Free People's rugged girl and her workshop space. While the original storefront remains untouched, new finishes such as mica plaster, reclaimed white-washed beadboard, and a suede wash have been installed throughout. Six fitting rooms were added, and a new cashwrap was installed with three points of sale. A colorful installation of yarn-filled cubbies illuminates the space behind the cashwrap as customers check out. The added Intimately Free People shop is marked by a rough sawn maple wood entry, reclaimed wide plank flooring, Mori patchwork curtains, and a cage light installation overhead.
Free People San Antonio will be hosting a reopening event on Friday, September 19th, from 6-8pm. Along with the opportunity to shop the new space, festivities will include gifts for the first 40 customers to arrive, henna tattoos, a photobooth, and refreshments.
The store location will remain the same: 15900 La Cantera Parkway, San Antonio, TX 78256. Store hours will continue to run Monday-Saturday 10am-9pm and Sunday 12pm-6pm. Fans should also "like" the store on Facebook to stay up-to-date on all of the latest arrivals, events, and other happenings: (https://www.facebook.com/freepeoplesanantonio).
###
About Free People
Free People is a specialty clothing brand featuring the latest trends and vintage collections for women who live free through fashion, art, music, and travel. The eclectic look consists of quality apparel, shoes, and accessories that invoke attributes of femininity, spirit, and creativity with its design. Free People is distributed globally via direct channels including the Free People Global site and Free People UK site, as well as specialty boutiques, top department stores, and the brand's free standing retail locations in the U.S. and Canada.