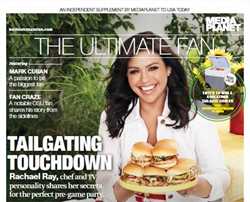 New York, New York (PRWEB) September 12, 2014
The print component of "The Ultimate Fan" is distributed within this weekend's edition of USA Today in New York, Philadelphia, Chicago, Cleveland/Pittsburgh, San Francisco, Dallas and Atlanta, with a circulation of approximately 450,000 copies and an estimated readership of 1.3 million. The digital component is distributed nationally through a vast social media strategy and across a network of top news sites and partner outlets. To explore the digital version of the campaign, click here.
This edition of "The Ultimate Fan" was made possible with the support of Ballantine Beer, which recently re-launched in select markets in the Northeast region on the United States. First introduced in America in the late 1800s, Ballantine IPA has been credited as an inspirational influence for the present day craft beer revolution in America. To read more, be sure to pick up a copy of USA Today in one of the distributed markets.
About Mediaplanet
Mediaplanet is the leading independent publisher of content-marketing campaigns covering a variety of topics and industries. We turn consumer interest into action by providing readers with motivational editorial, pairing it with relevant advertisers, and distributing it within top newspapers and online platforms around the world.