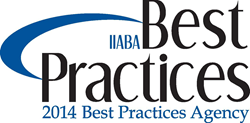 For over 65 years, we have worked with expatriates and international organizations to provide them with financial protection and peace of mind every day. It is an honor to be recognized for our work amongst industry peers and colleagues. - Chris Beck
WASHINGTON, D.C. (PRWEB) September 16, 2014
Clements Worldwide, the leading provider of international insurance solutions, continues for the seventh year to be part of an elite group of independent insurance agencies around the United States participating in the Independent Insurance Agents & Brokers of America (IIABA) "Best Practices" Study Group.
The agencies comprising the study group are selected every third year through a comprehensive nomination and qualifying process and awarded a "Best Practices Agency" designation. The selected "Best Practices" agencies retain their status during the three-year cycle by submitting extensive financial and operational data for review each year.
Only 206 independent agencies throughout the U.S. retained their status for 2014. Chosen agencies, including Clements, had to be among the 35 to 45 top-performing agencies in one of six revenue categories.
"We at Clements are delighted to be included by the IIABA again this year," said Chris Beck, President of Clements Worldwide. "For over 65 years, we have worked with expatriates and international organizations to provide them with financial protection and peace of mind every day. It is an honor to be recognized for our work amongst industry peers and colleagues."
The Best Practices Study was initiated by IIABA in 1993 as the foundation for efforts to improve agency performance. The annual study of leading independent insurance agencies, which is conducted for IIABA by Reagan Consulting of Atlanta, Ga., documents the business practices of these "best" agencies and urges others to adopt similar practices.
--ENDS--
About Clements Worldwide
Clements Worldwide is a leading insurance provider for expatriates and international organizations. Founded in 1947, Clements offers international car, property, term life, health, specialty and high risk insurance in over 170 countries. With offices in Washington, D.C., London, and Dubai, Clements delivers comprehensive coverage, superior customer service, and unparalleled claims response. To learn more and quote online, visit http://www.clements.com.