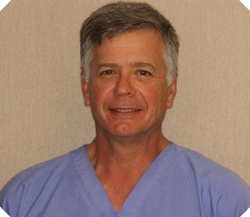 Corpus Christi, TX (PRWEB) September 11, 2014
Dr. Tilman Richards supports Self-Improvement Month by educating patients about gum disease, or periodontal disease. Local residents often avoid seeing a Corpus Christi, TX dentist out of fear. When patients with periodontal disease do this, they do not receive the treatment they need and their problem often worsens. Historically, treatment for this disease required invasive gum surgery. However, with the invention of the laser periodontal disease treatment known as the LANAP® protocol, patients have nothing to fear and much to gain by seeking help.
Periodontal disease typically begins with a formation of plaque and bacteria on the teeth and gums. Bacteria produce a toxin that, over time, can cause the destruction of the bone and other structures that support the teeth. When left untreated, bone and eventual tooth loss may occur. Visiting a Corpus Christi, TX dentist while in the early stages of disease is the best way to keep it from progressing. Treating this oral infection not only improves oral health but overall health as well, as scientists have discovered a link between periodontal disease and other systemic health conditions such as heart disease, stroke, diabetes, and some types of cancer. Patients who receive laser periodontal disease treatment with Dr. Richards are in a better position to save their natural teeth while decreasing their risk of developing serious health conditions.
The LANAP® protocol employs a laser called the PerioLase® MVP-7™ to eradicate bacteria and diseased tissue from under the gum line. Traditionally, dentists were forced to perform gum surgery to treat the disease, cutting away healthy gum tissue in addition to the diseased tissue. Today, patients have the luxury of an advanced, minimally invasive laser periodontal disease treatment. When Dr. Richards performs the LANAP® protocol, there are no incisions or sutures and patients experience only a very slight discomfort during the healing process. Now that treatment for patients is easy and the recovery period is short, they have no reason to put off getting help.
To honor September as Self-Improvement Month, Dr. Richards urges patients to educate themselves on the effects of periodontal disease and to seek treatment to address this progressive condition. Anyone who would either like more information about gum disease treatment or who is looking for a Corpus Christi, TX dentist should visit Dr. Richards' website or call his office. Dr. Richards performs consultations to help patients understand their treatment options.
About the Doctor
Tilman Richards, DDS is a general dentist who has provided patients personalized dental care in Corpus Christi, TX since 1984. Dr. Richards graduated with honors from Sam Houston State University with a Bachelor of Science in biology, and he attended Baylor Dental School in Dallas where he received his degree as a doctor of dental surgery. He is also a member of the American Dental Association, Texas Dental Association and Nueces Valley District Dental Society. Dr. Richards is part of one percent of dental professionals providing the LANAP® FDA cleared laser procedure for gum disease treatment. To learn more about Tilman Richards, DDS and his dental services, visit his website at http://www.corpus-christi-dentist.com and call (361) 238-2373.