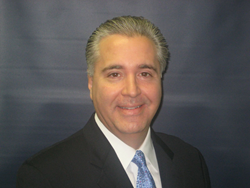 Miami Beach, FL (PRWEB) September 11, 2014
Mark I. Gutt, DMD, PA, now offers his patients in Miami Beach and Aventura, FL the LANAP® protocol, a minimally invasive gum disease treatment that targets bacteria and infection while significantly reducing the damage scalpel surgery often causes to healthy tissue. By the time a patient experiences bleeding gums, which is often the first noticeable symptom, gum disease may have already advanced.
Gum disease is caused by bacteria that feed on acids from foods and create a sticky paste around the gumline called plaque. If the plaque is not removed with regular brushing, flossing and professional periodontal maintenance hygiene visits, it hardens into tartar. This irritates the gums and leads to infected gum tissue, causing sensitivity and bleeding. As the infection advances, the gums pull away from the roots of teeth, and deep pockets form below the gumline. Unfortunately, even with a good oral hygiene routine, a person may develop gum disease because of genetics, hormone fluctuations, medications and other periodontal risks.
Traditional methods of treating advanced gum disease involve using a scalpel to cut away the gums, in order to clear away tartar from the roots of the teeth. Dr. Gutt offers his patients in Miami Beach and Aventura, FL a scalpel-free alternative gum disease treatment that reduces the trauma caused by traditional scalpel surgery.
LANAP® is an FDA-cleared procedure that uses the PerioLase® MVP-7™ laser to clean below the gumline without the need for cutting or sutures. The laser clears away the bacteria and infection and cauterizes the gums as it cleans so that the patient experiences minimal bleeding and a recovery time of days rather than weeks.
Patients in Miami Beach and Aventura, FL who are interested in learning more about the LANAP® protocol may find information about this unique gum disease treatment on Dr. Gutt's website at http://www.southfloridaperio.com or call any of his offices to schedule an appointment.
About the Doctor
Dr. Mark I. Gutt is a board certified periodontist, and the founder and principal of his periodontal oral health care practice, which was established in 1991. Dr. Gutt has since expanded his practice from the original location, and now has offices located in Miami Beach, Aventura, and Key West, FL. He received his Bachelor's degree in 1984 from Boston University, and earned his doctor of dental medicine (DMD) in 1989 from the University of Pennsylvania. Dr. Gutt went on to obtain his specialty certification in periodontics in 1991, also from the University of Pennsylvania, and completed his board certification as Diplomate of the American Board of Periodontics in 1999, a degree attained by only 20% of the periodontists in the world. Dr. Gutt belongs to the one percent of dental professionals in the world currently providing the LANAP® Protocol, the first FDA-cleared laser procedure for gum disease and periodontal treatment. To learn more about Dr. Gutt and the dental services he provides, visit his website at http://www.southfloridaperio.com or call the Miami Beach office at (786) 329-4989, the Aventura office at (786) 419-4245 or the Key West office at (305) 294-4661.