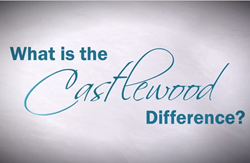 Castlewood's process is intended to help clients decrease shame and increase interpersonal relationships. We help our clients gain insight and process the origins of their eating disorder.
ST. LOUIS, MO (PRWEB) September 16, 2014
In a new video released by Castlewood Treatment Center, staff members and clients offer a glimpse into the comprehensive and caring treatment for eating disorders available at Castlewood facilities. The video uses personal interviews to highlight aspects of the dynamic program Castlewood provides. From the personal admissions interview with clients and their families to the real-life situation practices, treatment for eating disorders at Castlewood extends an understanding helping hand to people who suffer from a variety of issues, including anorexia, bulimia and binge eating.
Watch the Video: What is the Castlewood Difference?
Eating disorder treatment at Castlewood, which has facilities in St. Louis, Mo., Monterey, Calif. and Birmingham, Ala., offers a full continuum of care including residential, partial hospitalization and intensive outpatient programs. Therapists, physicians and dietitians collaborate together to create a plan geared to each client's nutritional and emotional needs. Castlewood offers individualized treatment utilizing evidence based and innovative therapies allowing the professional staff to devise a program of therapy and education that will lead to recovery and healing. Each plan addresses the entirety of the client, not merely abstention from destructive eating behaviors.
"Castlewood's process is intended to help clients decrease shame and increase interpersonal relationships," said Emily Williams, program director. "We help our clients gain insight and process the origins of their eating disorder."
One of the therapeutic modalities is expressive therapy, in which clients have an opportunity to externalize their internal world through the dramatic process. This technique, used in individual, group and family settings, allows exploration of the deeper feelings and negative thinking that led to the destructive behaviors associated with eating issues.
According to Heidi Strickler, administrative director at Castlewood, much of the credit for Castlewood's success is due to the integration of newly acquired life skills into real-world situations.
"Our programming is unique because it allows people, regardless of their previous treatment experiences, to come to a program that provides both structure and freedom to experience life and practice different life skills," said Strickler. "They then blend those life skills with therapeutic skills and therapeutic experiences."
The video also features commentary from clients in recovery, a hallmark of success.
"I was apprehensive coming into a treatment center," one client said. "I did research and discovered that Castlewood has a program that is individualized. It's not about a diet; my program was tailored for me. What I liked best was the interdisciplinary nature of how the psychiatrists, therapists and dietitians communicated."
About the company
Castlewood Treatment Center helps people with eating disorders transform to healthier lives. Established in 2000 as the first residential treatment facility in Missouri, Castlewood's licensed health care team is nationally recognized and has decades of combined experience in providing compassionate, professional and successful treatment for more than 1,000 men and women with eating disorders and related conditions. They offer individualized, supportive and comprehensive care in a home-like residential setting to help people towards recovery and a bright, healthy future. Castlewood facilities are located in St. Louis, Missouri; Monterey, California; and Birmingham, Alabama, and are accredited by the Commission on Accreditation of Rehabilitation Facilities and The Joint Commission. For more information, please contact us at http://www.castlewoodtc.com/contact/ .