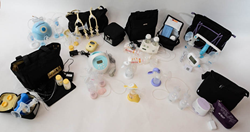 A breast pump allows mom to provide nourishment for her baby, even when they're not together.
Cheyenne, Wyoming (PRWEB) September 14, 2014
Baby product review website, BabyGearLab.com, has recently released the results of their 2014 awards for top breast pump. Taking on 10 popular breast pumps, they ran them through a wringer of tests and hands-on daily use in several different pumping situations. The four month long testing period allowed editors to glean from actual experience with the product and note key details as they were used side-by-side. The units were graded on comfort, ease of use, portability, efficiency, hygiene, acoustics, weight and size. One of their most comprehensive reviews yet, further details can be seen at BabyGearLab.com.
Following are the award winning products:
The Editors' Choice was the Spectra Baby USA S1 Hospital Grade. "This pump was easy to use and worked extremely efficiently," states Dr. Juliet Spurrier, founder of BabyGearLab.com. "We found that the S1produced more milk in a shorter amount of time, yet still remained comfortable for the user."
Top Pick went to the Medela Harmony Manual. "We especially like this one for the traveling mom. It is compact, easy to assemble and still managed to be one of the most comfortable manual pumps we tested." Dr. Spurrier commented.
The Medela Pump In Style Advanced took home the Best Value award. "In our opinion, this package offered very strong bang for the buck while still offering performance that was near the top in our tests," notes Dr. Spurrier. "It comes with everything a mom needs to pump and store breast milk at home or on the go."
BabyGearLab has also published two complimentary articles related to this review. The first, entitled How to Choose the Best Breast Pump, will guide readers through a series of questions and offers seasoned advice on picking the right pump for their personal use. The second article, Best Practices for Handling Breast Milk, written by founder and pediatrician, Dr. Juliet Spurrier, focuses on the "why and how-to" of maintaining the special, nutrient-filled quality of breast milk.
BabyGearLab is proud to offer their readers extremely detailed baby product reviews and feels the best way to do so is by lengthy, hands-on use of the products. This category was assigned to an editor who also works as a registered nurse and continued to pump while at work, while traveling and from home. This gave an insider perspective as she used and compared each pump side-by-side in multiple real-life situations.
About BabyGearLab.com LLC
Founded in 2012 by mom-in-chief Dr. Juliet Spurrier, BabyGearLab seeks to produce some of the worlds most in-depth reviews on products geared towards babies from newborn to one year. As a pediatrician and mother herself, Dr. Spurrier knows many of the important qualities to look for when it comes to both the performance and safety of baby-related gear and, with the help of her growing team, does her best to pass on that valuable information to other parents.