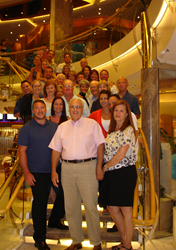 "It's an entirely different experience to be sitting in a pool or on a beach with a customer, watching the sunset while recounting the day's white water rafting trip. Sometimes, in that moment is where the best ideas come out."
Lakewood, New Jersey (PRWEB) September 30, 2014
This past July, dealers and distributors of solar pool heaters manufactured by Aquatherm Industries, Inc. enjoyed five days of fun in the sun during the company's 22nd Annual Summer Sales Retreat. The group, including Aquatherm's employees, salesmen, installers, and their families set sail on a five-day cruise bound for Bermuda out of Cape Liberty, New Jersey.
The manufacturer's yearly tradition was started in 1992 as a way to recognize its customers' hard work in the spring selling season, and help to recharge and refocus them for the upcoming fall season. Destinations are typically tropical, ranging from the Florida Keys, to the Caribbean, to Central and South America, but have also included trips to breathtaking sports in northern climates like Alaska, British Columbia, and Nova Scotia.
Dave Sizelove, President & CEO of Aquatherm Industries, Inc., says the event is something both he and his staff, as well as the dealers look forward to every year. "We consider ourselves a customer-intimate organization, meaning first and foremost we put the needs of our customers ahead of any pursuit of short-sighted market trends," says Sizelove.
"It also means developing close, long-lasting relationships with those customers. We strive to be more than just a point in their business' supply chain; we encourage them to use our network's combined knowledge and experience to grow their business to the level they want. By bringing that network together, we facilitate the exchange of ideas."
Aquatherm's other annual event, the Master Dealer Kick-Off Meeting, is traditionally held in late January and lets the manufacturer bring its dealers up to speed on the latest in selling and installing its solar pool heaters. Though Sizelove says both events are important in their own ways, the atmosphere during the Summer Sales Retreat is understandably more relaxed.
"It's one thing to have a group of dealers siting in front of a whiteboard, collaborating with you on a new part – something that will improve the quality and efficiency of installations," says Sizelove. "It's an entirely different experience to be sitting in a pool or on a beach with them, watching the sunset while recounting the day's white water rafting trip. Sometimes, in that moment is where the best ideas come out."
Sizelove has already selected the location for next year's Retreat, but as usual it will be kept a well-guarded secret until the Master Dealer Kick-Off Meeting, which is being held January 2015 in San Diego, California.