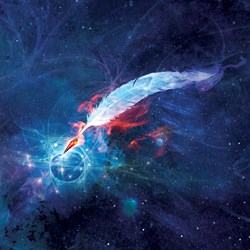 As a Writers of the Future contest judge, it is a pleasure for me to be able to publish some of these talented winners.
Hollywood, CA (PRWEB) September 11, 2014
For more than two decades, New York Times Bestselling authors Kevin J. Anderson and his wife Rebecca Moesta have worked with traditional publishers, learning the business from the author side of the desk, experiencing the ins and outs of the industry. But now with the popularity of eBooks, the dramatic shift in brick-and-mortar bookselling, and the remarkable advances in print-on-demand technology, the two bestselling authors have launched their own publishing company, WordFire Press. To date, WordFire Press represents 33 other authors, including bestselling DUNE novelist Frank Herbert, multiple award-winner Mike Resnick, military technothriller author Doug Beason, and RUSH band member Neil Peart. They just released Writers of the Future Contest winner Brad Torgersen's short fiction collection, "Racers of the Night" at the Salt Lake City Comic Con with great success.
In addition to Brad, Jay Lake, Ken Scholes, David Sakmyster, WordFire authors are drawn from Writers of the Future—as well as fellow judges—including Eric James Stone, Steven Savile, David Farland, Mike Resnick, Kristine Kathryn Rusch, Dean Wesley Smith, Nina Kiriki Hoffman and Todd McCaffrey.
With more than 23 million copies of his books in print, Anderson saw opportunities in the changing landscape of publishing and bookselling. With their background and experience, Anderson and Moesta originally used the WordFire imprint to release new editions of their own out-of-print titles (which were still in demand from their legions of fans). Achieving surprising success with their own titles (released both in print and in all eBook formats), they drew the attention of other notable authors who wanted their works available, but did not want to go through the same learning curve. Many of their fellow writers were also looking for a way to distribute their books outside of the traditional channels, not just with classic reprints but also original yet hard-to-categorize books.
Anderson and Moesta have a large footprint in the science fiction and fantasy genre, with many popular novels in the Star Wars, X-Files, Dune universes in addition to their original works. With their sterling reputation in the field, they were able to bring aboard so many major authors for a new model of publishing. WordFire Press takes advantage of the new tools available to indie authors and small publishers—a broad distribution platform in major eBook retailers (Kindle, Kobo, Nook, iBooks, and others) as well as the availability of print-on-demand publishing, which does not require a significant up-front investment or warehousing costs. WordFire pays their authors subtantially higher royalties than a traditional publisher would, and the writers have much more hands-on control of the finished product if they choose.
Anderson says, "This is a whole new landscape of publishing, something that allows an author to bring books back into print and connect directly to the fans. I've spent 25 years learning the business as a published novelist, and now I can go on the other side of the desk and do my publishing duties the way the author would like them to be done. We are fair, and fast, and we produce a great book."
Traditional publishers typically pay authors 25% of the net eBook royalties and keep 75%, even though there are no continuing production costs, inventory costs, or other material costs. For years, authors have been pressing for a more equitable split, without success. Anderson says, "At WordFire, we split 50/50 and give our authors a very generous escape hatch if they aren't satisfied with what we're doing. Every week I am approached by big name authors who think they'll be better off in the long run to keep a larger share of royalties and more control of their own work."
"As a Writers of the Future contest judge, it is a pleasure for me to be able to publish some of these talented winners. Brad is doing quite well as are the other writers from the contest that I have taken on and I will certainly be taking more on in the future," Anderson further stated.
Now in its 31st year, the Writers of the Future Contest began in 1983 and attracts entries worldwide in science fiction and fantasy. Twelve quarterly winners receive prize monies and, along with selected finalists, are published in an annual anthology, L. Ron Hubbard Presents Writers of the Future (Galaxy Press). The book is sold in bookstores and at Amazon.com and gives the winners the exposure that they need.
Inspired by multiple New York Times best-selling author L. Ron Hubbard, the merit-based Writers of the Future Contest was initiated by him to discover and encourage talented beginning writers of science fiction and fantasy, and thus launch careers.
The idea has proved very successful. Hundreds of winners have had successful writing careers following their win and publication in the anthology, and to date has launched the careers of 12 New York Times bestsellers including: Jo Beverley, Tobias S. Buckell, Nancy Farmer, Eric Flint, Karen Joy Fowler, Tim Myers, Patrick Rothfuss, Lisa Smedmen, Dean Wesley Smith, Elizabeth Wein, Sean Williams, and Dave Wolverton aka David Farland.
Prospective writers should visit http://www.writersofthefuture.com for more information on how to enter the contest.