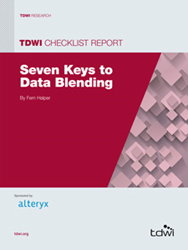 You must frame the problem or question according to the data you need. This includes thinking about the kinds of attributes required for analysis, units of measure, and the timing.
Seattle, WA (PRWEB) September 11, 2014
TDWI Research's newest Checklist Report, Seven Keys to Data Blending, examines the steps enterprises can take to successfully combine data sources for analytics without first integrating the data into a data warehouse or other repository.
According to Fern Halper, author of the report, "Companies are using disparate data types more frequently to gain value via analytics. TDWI research indicates that companies are becoming more interested in enriching the traditional structured data found in their data warehouses or marts with other kinds of data."
Halper notes that at the same time, "Analytic tools are becoming easier to use and the business analyst is becoming a primary user of analytics. Data access and integration are often stumbling blocks for business analysts who may have a hard time accessing disparate data and getting it ready for analysis." Such manual integration can be time-consuming, so enterprises look for ways to bring "disparate and often dispersed data together in an analytic data set to be explored and modeled without up-front integration."
The report begins by explaining the importance of clearly and precisely determining the business problem to be solved. "You must frame the problem or question according to the data you need. This includes thinking about the kinds of attributes required for analysis, units of measure, and the timing," Halper points out.
In addition, the report:

Explains how enterprises are using data from traditional and third-party sources as well as emerging data (such as unstructured data) both internal and external to the enterprise
Discusses the challenges of joining traditional structured data with unstructured data
Looks at why vendors are supporting data blending with a visual interface to make joining data intuitive
Examines the different types of analysis that can be performed on blended data, including descriptive analytics and predictive analytics
Details how the steps in data blending and analysis can be saved so the workflow is repeatable
The report was sponsored by Alteryx.
For a complete copy of the report or to ask questions of the author, members of the press should contact Fern Halper at fhalper(at)tdwi(dot)org. The report is freely downloadable by the public at http://tdwi.org/research/2014/08/checklist-seven-keys-to-data-blending; a short registration is required for those downloading a TDWI report for the first time.
About the Author
Fern Halper is director of TDWI Research for advanced analytics, focusing on predictive analytics, social media analysis, text analytics, cloud computing, and other "big data" analytics approaches. She has more than 20 years of experience in data and business analysis, and has published numerous articles on data mining and information technology. Halper is co-author of "Dummies" books on cloud computing, hybrid cloud, service-oriented architecture, service management, and big data. She has been a partner at industry analyst firm Hurwitz & Associates and a lead analyst for AT&T Bell Labs. Her Ph.D. is from Texas A&M University. You can reach her at fhalper(at)tdwi(dot)org, or follow her on Twitter: @fhalper.
About TDWI
TDWI, a division of 1105 Media, Inc., is the premier provider of in-depth, high-quality education and research in the business intelligence, data warehousing, and analytics industry. TDWI is dedicated to educating business and information technology professionals about the best practices, strategies, techniques, and tools required to successfully design, build, maintain, and enhance business intelligence and data warehousing solutions. TDWI also fosters the advancement of business intelligence and data warehousing research and contributes to knowledge transfer and the professional development of its members. TDWI offers a worldwide membership program, five major educational conferences, topical educational seminars, role-based training, on-site courses, certification, solution provider partnerships, an awards program for best practices, live Webinars, resourceful publications, and an in-depth research program. For more information, visit tdwi.org or follow us on Twitter @TDWI.
About 1105 Media
1105 Media, Inc., is a leading provider of integrated information and media in targeted business-to-business markets, including specialized sectors of the information technology community; industrial health, safety, and compliance; security; environmental protection; and home healthcare. 1105's offerings span print and online magazines, journals, and newsletters; seminars, conferences, and trade shows; training courseware; and Web-based services. 1105 Media is based in Chatsworth, CA, with offices throughout the United States.
###
Media Contact:
Fern Halper, TDWI
fhalper(at)tdwi(dot)org; 978.443.0504