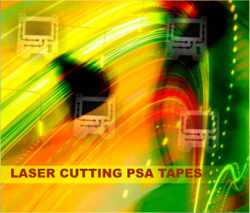 Riverhead, NY (PRWEB) September 13, 2014
Universal Laser Systems and Adchem Corporation completed a study for laser cutting eleven (11) acrylic and rubber-based systems in double-sided, transfer adhesives and double-sided foam tape constructions. Universal Laser has added the Adchem adhesive tape products to its extensive database of materials. These materials can be cross-referenced to Adchem's extensive bonding studies, which include urethane and polyethylene foams, rubber, plastics, TPO, metals, LSE surface finishes and fabrics. The new laser cutting study will save design engineers significant product evaluation time and test expense by narrowing the field of tape candidates intended for laser cutting substrates.
All samples were processed using the Universal Laser Systems PLS6.150D, with 30, 75, and 150 watt CO2 lasers and a 2.0 lens and utilized Universal's Air Assist and Honeycomb Cutting Table. The Air Assist was set up in both "Cone" and "Backsweep" configurations. The cone protects the laser optics and is helpful when processing flammable materials. In the backsweep configuration, compressed air is directly tangential to the work surface. The backsweep is useful for removing solid residues after cutting or engraving certain polymer materials. The Honeycomb Cutting Table is designed to maximize air flow through the work piece during laser cutting and to minimize laser reflection back onto the work piece.
Universal's equipment eliminates expensive and time-consuming die costs and is ideal for low to medium production quantities where part geometries are complex, materials are fragile, or small shapes are too intricate for traditional die cutting. The results from both Universal and Adchem databases enable users to rapidly evaluate tapes and substrates used in automotive, electronics, industrial device, gasketing, sealing, and cushioning applications.
Complementing Universal's laser study, Adchem's studies provide comparative bond strength information for each substrate using transfer tapes and double-sided tape constructions, including new Low Surface Energy (LSE) adhesive formulations. The Universal study and Adchem bonding studies are available on Adchem's interactive website, http://www.adchem.com providing in-depth technical detail and comparative analysis for each of the adhesive systems.
All Adchem's double-sided, single-coated, and unsupported adhesive tape systems are REACH and RoHS compliant. The company's products are supported by advanced engineering capabilities, guiding engineers to appropriate product constructions of over 50 different adhesive systems while meeting the performance requirements of the most demanding industrial and consumer applications. Contact Adchem for a copy of the Universal Laser Systems Study at info(at)adchem(dot)com or call 631-727-6000.
About Adchem Corporation
Adchem Corporation is ISO 9001-2008 certified with an A2LA accredited laboratory complying with ISO 17025. The 50 year old company engineers and manufactures pressure-sensitive adhesive tape systems, including double-sided papers, films, tissues, foams and fabrics; transfer tapes; one-side coated products and other custom-coated specialty products. 100% solids adhesives, solvent and water-based acrylics and rubber adhesives are used in a variety of industries, including automotive, construction, electronics, graphic arts, medical, transportation and general industrial tape applications. Adchem is certified under the newly established Responsible Tape Manufacturer (RTM) program of the Pressure Sensitive Tape Council (PSTC).
About Universal Laser Systems
Universal Laser Systems has been advancing the application of modern CO2 laser technology since 1988. R&D efforts have resulted in numerous patents, with several pending, in our continual pursuit to develop and enhance laser systems that benefit the customer. Our solely owned, custom-built, state-of-the-art engineering and manufacturing facilities are located in Scottsdale, Arizona, where we manufacture both lasers and laser systems.. Our Applications Lab, dedicated to the continual advancement of laser material processing, has developed unique solutions for thousands of customers.
Universal's passion for servicing customers has culminated in the industry's most comprehensive product line of laser engraving, marking, graphic imaging and cutting systems. As the leading provider of CO2 laser technology solutions, there is a Universal laser system installed in every country in the world with customers ranging from small, family-run operations to highly automated Global 2000 companies..
For More information contact:
Joseph Pufahl
Adchem Corporation
1852 Old Country Road
Riverhead, NY 11901
631-727-6000
jpufahl(at)adchem(dot)com