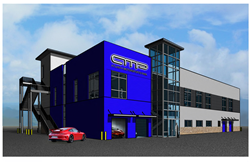 Jeremy Porter, CEO of Atlanta Motorsports Park stated: "We are proud to offer the first of its kind in America, an "Ice Hill" also a purposed built conference centre focused on manufacturers, film and TV."
Dawsonville, GA (PRWEB) September 12, 2014
Atlanta Motorsports Park will be groundbreaking and unveiling the look of the new Business and Conference Centre and Corporate Entertainment Complex on Saturday, September 20, 2014; which will be a few short months after their two-year anniversary. Ultimately, this 20,000 square foot facility will house 35 employees. In addition to corporate offices, it will be comprised of a Conference Centre, 11 top-of-the-line garages for members, a fitness center, dinner lounge, kids game room, catering kitchen, car elevator, outdoor entertainment area and pool.
This new facility will also have a complete state-of-the-art audio video system and be able to accommodate up to nine cars and over 100-seated guests making it ideal for vehicle training by automotive manufacturers. Once construction is complete, the new Business and Conference Centre will be the most versatile, premier motorsport and entertainment facility in the Southeast.
The new Corporate Entertainment Complex will encompass 5,400 square feet with indoor lanes for boarding and off-boarding karts, an office, Pro Shop, Tech Area and meeting space to be used for kart racing schools, birthday/bachelor parties and corporate events.
AMP will also be dedicating their new Driver Development Centre, an Ice Hill on a 7.5% low friction, water jetted, sloped asphalt area and 200 foot diameter Skid Pad. This new 85,000 square feet of facility will be used for Teen Driving Schools, vehicle testing and various other driving activities. The "Ice Hill" is the first of its kind in the United States.
Atlanta Motorsports Park has already been a boom to the local economy, and the new facility is expected to create 5-10 additional jobs. Plus another goal is to build valuable partnerships with local, regional and national businesses and corporations.
About Atlanta Motorsports Park
http://www.atlantamotorsportspark.com
Atlanta Motorsports Park (AMP) is a World-Class motorsports country club specifically designed to cater to automotive enthusiasts and vehicle manufacturers. Complete with a 2-mile road course, an .85-mile Autocross Track and Driver Development Centre (Skid Pad and "Ice Hill" Simulator), AMP offers executive level service and is the ideal location to experience the thrill of motorsports.
Contact:
Jeff Beal, VP of Marketing
jeff(at)100mphlunch(dot)com
Phone: 678.381.8527 ###