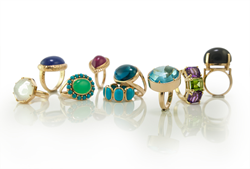 The fine jewelry collection radiates bold, vibrant color
Reston, VA (PRWEB) September 12, 2014
Fine Jewelry Collection:
Handcrafted in 18K and 22K gold, the fine jewelry collection radiates bold, vibrant color that is masterfully achieved through the integration of large carat stones, contemporary bezel settings, and use of the world's finest, all natural semi-precious and precious gemstones. The designs pay homage to the distinctive aesthetic of signature Dina Mackney designs, yet are infused with a sense of elevated sophistication. Juxtaposing classicism with modernity, each design reveals a unique personality derived from the essence of rare and coveted gemstones such as black diamonds, pink sapphires, pink tourmalines, yellow Australian prehnite, tsavorite garnets, and sleeping beauty turquoise.
Dina Mackney launches her fine jewelry collection through exclusive Neiman Marcus personal appearances and trunk shows nationwide, commencing Saturday, September 13th at Neiman Marcus Tyson's Galleria in McLean, VA. The fine jewelry collection is also available for purchase on the newly launched Dina Mackney Designs e-commerce shop. After the initial launch period, the company will extend distribution into additional retailers.
E-Commerce Store:
After selling wholesale for nearly six years, Dina Mackney announces the grand-opening of her inaugural e-commerce store. "In a global, e-commerce driven retail environment, I knew a branded e-store was the next logical step for Dina Mackney Designs", notes Dina. "Although many of our jewelry collections are exclusive to our highly valued retail partners, the e-store provides a new distribution channel with access to different collections and an opportunity for online shoppers to experience the full scope of the Dina Mackney brand."
The Dina Mackney e-store debuts with an exclusive assortment from the inaugural fine jewelry collection (18k and 22k gold) along with Dina's popular designer jewelry collection (22k gold vermeil). Online shoppers will have access to timeless designs that easily transcend seasons and showcase rare semi-precious gemstones such as Mexican fire opal and tourmilated quartz, as well as precious rubies, sapphires and emeralds.
About Dina Mackney
Inspired by the beauty and brilliance of all natural semiprecious and precious gemstones, Dina Mackney designs jewelry set in fine 18-22k gold, sterling silver, or 18-22k gold vermeil. Juxtaposing unique gemstones and unexpected color combinations, each handmade design tells a unique story…much like the confident, modern woman who serves as her muse. Dina's designs have been worn by celebrities such as Oprah Winfrey, Jane Lynch, Tea Leoni, and CBS news anchor, Norah O'Donnell. Dina Mackney collections are available at 23 Neiman Marcus stores nationwide, luxury retail boutiques and fine jewelry stores across the country, and online.