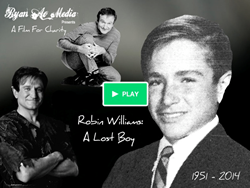 "Robin Williams: A Lost Boy" is a tribute film dedicated to the memory of Robin Williams, as well as the many people affected by suicide and seeking insight to depression." - Ryan Ao
San Francisco, CA (PRWEB) September 12, 2014
Robin Williams' death had a huge impact on many people. Ryan Ao, once an orphan, who later struggled with depression and a suicide attempt as well, had always looked up to Robin as the father he wished he had. This loss brought up for Ryan the question, "How could anybody survive in this world where depression and loneliness can consume such a bright source of laughter such as Robin". This film's focus is to be a source of healing for the struggles that everybody faces.
"Robin Williams: A Lost Boy" is a tribute film dedicated to the memory of Robin Williams, as well as the many people affected by suicide and seeking insight to depression. Director Ryan Ao lost one of his dearest San Francisco area friends last year to suicide, who, similar to Robin, was a person who had a character of generosity veiling a depressed inner world. How can similar situations be prevented?
With the US suicide rates rising, this film will explore the root causes of depression leading to suicide. Robin was surrounded with people yet felt alone. He made movies with powerful messages and laughter to heal and uplift those around him, but when it came to his inner world, he could have used a bit of his own medicine. Through the search for answers, Ryan hopes to interview friends and family of Robin WIlliams, as well as psychologists, spiritual teachers, scientists, suicide victims' families, survivors of suicide attempts, and more. Please contact ryan(at)ryanao(dot)com if you knew Robin, or have insight to suicide, and want to be interviewed.
Currently the film project is running an "all-or-nothing" Kickstarter campaign to raise money for the film's production. Sharing the Kickstarter link on social networks is also a great contribution, and all donations to the Kickstarter campaign are tax-deductible. The campaign will run for 1 month to reach the minimum budget goal of $75,000 by October 8, 2014. After production, 50% of profits will be donated to two charities. The first is "Comic Relief", a charity Robin worked closely with that is dedicated to eradicating poverty and helping the homeless. The second is the "Gezundheit! Institute", the hospital Dr. Patch Adams is building that will offer free health care to anyone and focuses on using humor to heal, which Robin depicted in his film "Patch Adams". The film festival release date goal is for September 2015, with the aim to subsequently get picked up for theatrical, DVD, and online distribution. For more information, follow the Facebook page: https://www.facebook.com/robinwilliamsalostboy or Twitter: https://twitter.com/robinalostboy