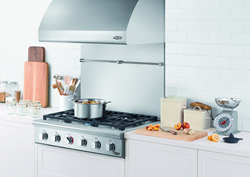 Professional is not for everyone. It's uncompromising in its simplicity, unparalleled in its performance and unconventional in its resilience. For DCS products, professional means power, simplicity and control.
Huntington Beach, California (PRWEB) September 16, 2014
DCS by Fisher & Paykel, a leading manufacturer of top quality, professional-grade indoor and outdoor kitchen appliances, today announced it has introduced a new line of kitchen equipment including cooking, refrigeration and dishwashing appliances. DCS' new line of kitchen equipment is powerful, distinctive and built to last for professional chefs who want the same kind of equipment they use at work and for people who want to use professional-grade cooking products at home.
"Professional means different things to different people. For DCS, it's about design that delivers, construction that lasts a lifetime and performance that's consistent. Professional is something close to our hearts, because it's where we started — in professional kitchens," says Gina Lathrum, brand marketing manager for DCS by Fisher & Paykel. "Professional is not for everyone. It's uncompromising in its simplicity, unparalleled in its performance and unconventional in its resilience. For DCS products, professional means power, simplicity and control."
The new line of DCS kitchen equipment includes a new aesthetic aligned to traditional kitchen design and function that is inherently simple and utilitarian. Comprised of quality handmade kitchen products built around cognitive and physical ergonomics, the new DCS kitchen equipment line is designed to be visible in the kitchen rather than integrated or hidden. On all appliances, home chefs can now select from two different handle profiles (round or square) to suit their cooking style, as well as their kitchen. Range and oven control knobs have an illuminated halo system so home chefs can see what's happening at a glance. And, a new kick strip design is constructed from folded heavy gauge stainless steel to provide a durable, unique kick panel with a material finish that fits cohesively with the product.
According to Lathrum, America's Test Kitchen is an example of the company's professional-grade kitchen appliances in application. Since October 2008, more than 88 DCS appliances have been the power behind the test kitchen's products and are used daily on the television sets of America's Test Kitchen and Cook's Country from America's Test Kitchen — two of America's most popular cooking shows. Test cooks put DCS appliances through their paces every day, in the most rigorous test kitchen environment.
Featuring the same professional power, simplicity and control America's Test Kitchen relies on, the new line of DCS kitchen equipment includes:
Patented Dual Flow Burners™
DCS ranges and cooktops are designed with restaurant-grade features. They deliver perfect heat with Sealed Dual Flow Burners unique to DCS appliances that provide improved control. The 17,500BTU burner boils fast, yet also gently simmers on any burner at 140°F (full-surface simmer).
Infrared Broiler
DCS gas ranges have a powerful infrared broiler that delivers up to 19,000BTU and provides intense heat directly to the food. This is perfect for broiling to get a crisp skin on food while retaining the moisture inside.
Professional Quality Griddle and Grill
The griddle station features heavyweight 1/4-inch stainless steel griddles (up to 17-inch wide) and an electro-mechanical thermostat to maintain an even temperature across the griddle surface. The grease drip pan is accessible from the cooking surface and can be easily removed and is dishwasher safe for easy station clean-up. The grill station features the DCS Grease Management System™ grease channeling technology, which drains fat and oil away from food during cooking and reduces smoke output.
Easy to Clean, Easy to Use
DCS ranges and cooktops feature sealed burners on an encapsulated cooking surface, the seamless design of the cooktop and a stainless steel finish make the cooking surface easy to clean. Full coverage, deep-platform style grates allow for easy sliding of larger pots and pans.
DishDrawer™ Dishwashers
The unique DCS DishDrawer Dishwasher makes clean up simple and safe. This ergonomic solution to dishwashing with a brushed stainless steel finish, offers kitchen design flexibility and superior results. DCS has introduced the 36-inch Wide DishDrawer Dishwasher to complement the 24-inch Single DishDrawer and 24-inch Double DishDrawer Tall dishwashers and add further design flexibility to complete the entertainer's kitchen.
Refrigerators
The counter depth DCS French Door Refrigerator has 19.5 cubic foot capacity and is designed with food preservation and entertaining in mind. The unique ActiveSmart™ technology system from Fisher & Paykel features humidity controlled environments and responds to daily use, achieving an Energy Star status for reduced energy usage.
CoolDrawer™
The CoolDrawer multi-temperature drawer has been designed to change from refrigerator to freezer at the touch of a button. It is built on the concept of distributed refrigeration, combining ActiveSmart technology with a drawer-based design that can be placed anywhere in the kitchen, home or entertainment area.
Vent Hoods
DCS vent hoods and down draft systems, effectively extract grease, steam and odors keeping the kitchen fresh and clean. DCS wall-mount vent hoods come in widths up to 48 inches and feature four exhaust settings. Designed with functionality in mind, these hoods feature generous halogen lighting, optional utensil rail and infrared warming lamps. The stainless steel baffle filters are dishwasher safe. The down draft systems feature infinitely variable speed controls, brushed stainless steel finish and a retractable design that fits seamlessly into island kitchen designs.
"DCS is the high-performance cooking brand that pioneered a new category of professional cooking products for the home in the late 1980s," says Lathrum. "We are pioneers of professional kitchen equipment and our new product line is another iron clad example we design serious kitchen equipment for people who love to cook."
About Fisher & Paykel
Since 1934, the Fisher & Paykel design heritage has been founded on a pioneering spirit and culture of curiosity that challenges conventional appliance design to consistently deliver products tailored for human needs. Incorporating outstanding performance and user-focused innovation, Fisher & Paykel and DCS by Fisher & Paykel appliance brands inspire people through indoor/outdoor kitchen and laundry products designed with real life in mind. Our brands incorporate innovative technologies driven from a passion to produce the most technically advanced, efficient and contemporary styled appliances. As pioneers of the world's first drawer dishwasher – DishDrawer® – Fisher & Paykel continues to pave the way for appliance innovation. Since the 1980s, DCS has defined cooking appliance innovation for the commercial food industry and designs commercial quality appliances for the home. Fisher & Paykel Appliances is a global company operating in 50 countries, manufacturing in the United States, Mexico, Italy, Thailand and New Zealand. For more information, please visit: http://www.dcsappliances.com/company/who-we-are/.