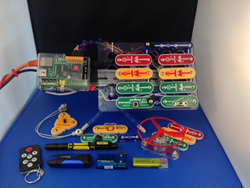 The CybatiWorks education platform provides an unprecedented view in to the cyber threats impacting critical infrastructure control systems at a fraction of the cost.
San Antonio, TX (PRWEB) October 15, 2014
The CybatiWorks® scalable academic and professional control system and Internet of things cybersecurity platform enables educational institutions, industrial asset owners / operators and supporting entities to quickly understand control system environments and cybersecurity risks. The portable and complete training platform has been validated by hundreds of industry practitioners and educators. The educational platform engages the student in understanding, enumerating, exploiting and mitigating the engineering workstation, HMI, OPC, Historian, PLC/PAC/IED/R(M)TU and ICS communications. The mini kits retail for $495 and come with introductory control system cybersecurity laboratories. Cybati is also deeply discounting their 5-day hands-on training for their first ever distance learning offering on December 8-12.
The CybatiWorks® educational platform empowers educators with the tools to instruct the elements necessary to help protect today's critical infrastructure control systems from cyber attacks. The platform enables the ability to step the participant through building, breaking and cybersecuring the most critical of control environments while leveraging low-cost hardware and software resources. "I am ecstatic to equip industrial professionals with a low-cost platform to learn the skills necessary to protect their infrastructure from cyber attack - it is has been a long, arduous journey", said Matthew Luallen, the co-Founder of Cybati.
The CybatiWorks® educational platform supports a variety of learning outcomes, including:

History of critical infrastructure and control systems
Cyber-physical security risk management
Vulnerability assessment and penetration testing
Attack surface analysis
Exploit code analysis
Secure coding
Logic analysis and physical I/O control
Industrial, building and home automation protocols
Engineering workstation and server operating systems
HMI screens points, tags and design
OLE for Process Control
Cryptography
Kinetic model analysis
Wireless analysis
Application security (e.g. web, database)
Intrusion detection and visualization
Incident response and active defense
More information is available at the CybatiWorks Kickstarter project.