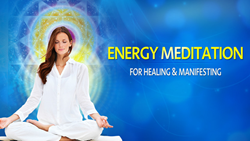 I believe everyone who meditates should try these at least once in their lives.
(PRWEB) September 16, 2014
ChangeYourEnergy.com introduces a new online Energy Meditation for Healing and Manifesting course.
Energy Meditation for Healing and Manifesting is a guided meditation video created by energy principles expert and author Ilchi Lee. The meditation exercise helps people understand how to effectively use manifestation techniques to get results and ways to heal in the process.
CYE.com encourages members to spend about 20 minutes a day practicing the meditation. The benefits include gaining mental clarity, peace of mind, a stronger connection to the earth and one's community.
"Tapping into the energy of the world within you and around you through LifeParticles helps to understand and experience the true nature of setting and achieving human goals," says CYE Director E.J. Lim.
LifeParticles are energy that make up consciousness and transcend beyond forming physical things. Realizing and using the interconnection between energy, matter and consciousness, or LifeParticles, is how to become a true creator of one's own life.
This Energy Meditation for Healing & Manifesting course incorporates guided meditation and sound healing to induce a deeper meditative state in which one can gather and distribute LifeParticles into and from their energy field to manifest their goals—whether it's physical healing, financial abundance, enriching interpersonal relationships, or spiritual growth.
This and other energy courses can be found on the main Courses pages.
About ChangeYourEnergy.com:
ChangeYourEnergy.com is a wellness lifestyle resource based on energy philosophy and the teachings of Ilchi Lee, a meditation and brain education leader. Changeyourenergy.com offers accessible, around the clock guidance, inspiration and practical online training to enable people to realize and activate their full human potential. The site offers lifestyle tips, health and wellness articles, exclusive seminars and personal development coaching.