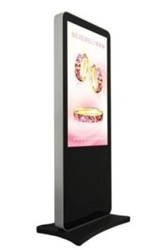 (PRWEB) September 12, 2014
Recently, Digital-Signage-China.com, a renowned digital signage manufacturer, has announced its new selection of 42 Inches Floor-Standing Digital Signage LCD Advertising Players. The company's online representatives have updated its product line with the detailed information about these items. In addition, they are now offered with discounted prices up to 30 percent off.
"We are pleased to release our wonderful 42 Inches Floor-Standing Digital Signage LCD Advertising Players. They are now available at incredibly affordable rates. All these machines are excellent; they can be used in many places. It is worthy to mention that these high quality items are made by our top experts. All customers are welcome to visit our website and sign up to be a VIP. We insist on offering good online service," the company's sales representative says.
The principal aim of Digital-Signage-China.com is to serve worldwide distributors in a great way. Furthermore, all advertising machines are made from secure and durable materials. Each of them is delicately manufactured by experienced workers.
Digital-Signage-China.com has been working in the digital signage industry for a long time and it has a vast knowledge of craftsmanship. The company has a wide variety of high quality advertising players for sale. Its aim is to provide worldwide clients with high quality devices at acceptable rates. The reason to choose Digital-Signage-China.com is very simple: It offers high-quality products at affordable rates, and all their products are delivered at discounted shipping costs.
About Digital-Signage-China.com
Digital-Signage-China.com is a well-known digital signage technology company with the eligibility of production, installation and maintenance of digital signage products. The company has much experience in the industry, and its customers are provided with the best resources and professional tips. It aims to offer all kinds of high end digital signage products for the global market.
For more information about the business and its digital players, visit http://www.digital-signage-china.com/?content/product/43/index.html.