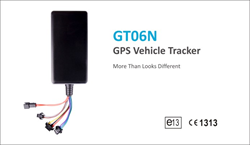 (PRWEB) September 15, 2014
Concox, a leading designer and manufacturer of professional GPS tracker and wireless communications equipment, is dedicated to bringing reliable products and customized solutions to clients across the world.
Being the best-seller in Concox's products, GT06N not only looks appealing but has many special functions appealing to customers. GT06N is a mini and original GPS car and truck tracker with an internal battery. It can be installed in the shelters on cars or trucks.
Concox has already introduced its high-level product GT06N to the buyers and at this point, we would like to introduce some special functions about it briefly. It is different from other products of its kind such as TR02 in appearance. More than that, it specializes in cutting off petrol and electricity function. Therefore customers can track their vehicles through sending messages on the platform in the case of it being stolen.
Apart from a locating and tracking system, it also has a SOS alarm, low battery alarm and vibration alarm. Other kinds of alarming such as a Geo-fence function should also be included. Its backup battery is 450 mAh.
Therefore, it is unnecessary for people to worry about their cars being stolen and not being able to bring them back because when their cars are moved out of the Geo-fence zone, the alarm will start and they can track the cars through the platforms. There are some other functions that will be realized via software platforms.
Concox pays close attention to customers' experience, and customers' satisfaction is always ranked number one here. Thanks to reliable products, satisfactory service and successful marketing strategies, Concox has become one of the most popular brands in the industry. Visit http://www.iconcox.com for more details.
Linkedin: https://www.linkedin.com/in/concoxgps
Google+1: https://plus.google.com/110386880670895632562/