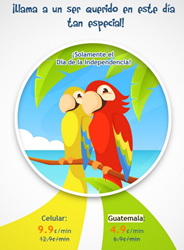 Independence Day celebration starts with a special offer: up to 30% off to call Guatemala .
Atlanta, Georgia (PRWEB) September 14, 2014
For Guatemalans living outside their mother country, Independence Day celebration starts with a special offer: up to 30% off to call Guatemala and wish everyone back home "Happy Independence Day!" Why did LlamaGuatemala.com launch such an appealing offer? The reason is simple: because on such special occasions, families and friends must come together, no matter the country they live in.
LlamaGuatemala.com's offer translates into special rates to call Guatemala: 4.9 ¢/min instead of 6.9 ¢/min to call any landline in Guatemala and 9.9 ¢/min instead of 12.9 ¢/min to call any mobile in Guatemala. The special rates are valid on September 15th, all day long until midnight.
Besides the special rates, customers may also use the free features that make the calling experience easy and intuitive: PINless dialing (once activated, entering PIN is no longer necessary) and Speed dial (by assigning phone keys to the numbers called frequently, dialing is reduced to pressing a phone key).
iOS and Android applications are also available to place calls, without having to dial any access number first, and even any phone number at all. Destination numbers do not have to be memorized and dialed digit-by-digit. For this purpose, customers can use their phone's Contacts list.
Besides the Voice Credit service, LlamaGuatemala.com customers may top up the mobile phones of family and friends back home in Guatemala via the Mobile Recharge service. The process takes less than 1 minute and the credit is sent instantly to the destination number. Plus, customers may use a feature newly implemented, which can reduce with up to 50% the time they spend while recharging a mobile. All they need to do is to:

Log in to their account.
Go to the Mobile Recharge page. All the prepaid numbers recharged in the last 90 days will be listed here.
Select the number they want to recharge. Both the country and the operator the number belongs to will be automatically filled in.
Choose the amount of the recharge and continue to the checkout page. It's as easy as that.
Tigo, Claro, Movistar top ups to Guatemala are available, with values ranging from $7 to $50.
Several security filters protect customers from possible frauds, making all transactions safe. The customer-focused approach, based on safe and user-friendly services make LlamaGuatemala.com a reliable partner in keeping a close relationship with everyone back home, no matter the country customers live in.
About LlamaGuatemala.com
LlamaGuatemala.com is an interactive website designed by KeepCalling, a global telecommunications company registered in 2002 in USA. KeepCalling services are available worldwide from any computer with Internet connection. KeepCalling, the company behind LlamaGuatemala.com, offers other telecom solutions apart from Voice Credit: Mobile Recharges, Virtual Number, Monthly Plans, Web Call and Web SMS through various ethnic websites. Presently, KeepCalling provides its services to hundreds of thousands of consumers and businesses, with a focus on customer satisfaction. In 2014, Inc Magazine listed KeepCalling as the 18th fastest growing company in the telecommunications industry.