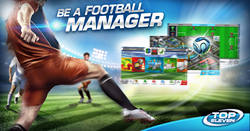 Kindle Fire users around the globe can finally play world's most popular online football management game on their devices.
(PRWEB) September 15, 2014
Kindle Fire users around the globe can get into the spirit of football with Top Eleven, a social sports management video game. Designed to be a feature rich gaming experience, Top Eleven enables players to challenge millions of others around the world and test their skills. Managers can create football dream teams by trading, buying or selling players. Once teams are selected, users can watch their players compete in live football matches, use their devices to change strategies or simply spectate. A complete range of customizable features within the app enables users to select uniforms, determine the nationality of individual players and even design and build their own stadium.
"In order to have a successful title, the game needs to be really interactive with feature rich gameplay and complex structure. Top Eleven is such game and has a large variety of options and possibilities for each and every manager out there. That's why the screen size really matters and that's why Kindle Fire tablet is a natural platform for our flagship title," said Mladen Dulanović, product manager at Nordeus.
"Nordeus has created an interactive soccer management game for Kindle Fire to offer customers a new kind of experience for people on the go," said Steve Rabuchin, Vice President, Amazon Appstore. "We're thrilled that Top Eleven is launching in the Amazon Appstore and creating this unique experience for Fire phone customers."
Top Eleven for Amazon Kindle Fire tablets is now available for download on the Amazon Appstore as a free to play title.
Nordeus is one of the fastest growing games companies in Europe with its wildly popular football manager game Top Eleven, which has more than 12 million monthly active users. Top Eleven's success can be attributed to the company's dedication to giving fans an authentic gameplay experience and cross-platform support. In March 2013, the company chose legendary football coach José Mourinho to be the face of Top Eleven. Nordeus has also partnered with world class football clubs Real Madrid, Liverpool, Arsenal, AC Milan and more to bring official in-game items to Top Eleven.