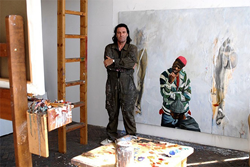 It is an enormous privilege to bring together in one exhibition a group of artists who have been a major influence on my personal development as a painter.
Hornchurch, Greater London (PRWEB UK) 14 September 2014
Renowned artist Chris Stevens – curriculum manager of Fine Art at the college in Hornchurch, Greater London – is curating REALITY: Modern and Contemporary British Painting at The Sainsbury Centre for Visual Arts, at the University of East Anglia, Norwich.
The exhibition from 27 September 2014 – 1 March 2015 brings together over 50 works celebrating the strength of British painting with some of the best and most influential artists of the last sixty years.
Major 20th Century artists are represented such as Walter Sickert, Francis Bacon, Lucian Freud and David Hockney in addition to the works of other contemporary artists including Ken Currie, George Shaw and Caroline Walker
Their work will be exhibited alongside a number of Chris Stevens' own paintings, one of which – Loughros Point revisited – was a prize-winner in Saatchi Art's international painting 2014 competition Painted Faces.
Stevens, who is about to start his 25th year teaching at Havering College of Further and Higher Education, has also included two former students in the exhibition. Brothers Sam and Luke Jackson studied Art Foundation courses at the college in the 1990s. They went on to gain BA (Honours) degrees in Fine Art from Middlesex University and were the first brothers in history to graduate from the Royal Academy Schools in London. They now exhibit at major galleries across the world, including Charlie Smith London.
Stevens, a father-of-two from West London, said of REALITY: "It is an enormous privilege to bring together in one exhibition a group of artists who have been a major influence on my personal development as a painter.
"The painters in this exhibition have been selected under the banner of Realism through their interest in everyday subject matter. Each painter is figurative or representational in nature and yet REALITY will present an extraordinary overview of artists with highly individual approaches to the making of a painting. I have included two ex-Havering College students (Sam and Luke Jackson) in the exhibition."
Stevens – whose book about the show is also being published – is able to pass on his first-hand experience as a practising professional to art students at Havering College.
Sam and Luke Jackson, who are originally from Hornchurch, are among many past and present Havering College students to benefit from his teaching.
Sam, 37, a father-of-one said: "As college students, Chris and other members of the staff gave us the freedom to experiment but still allow our progression as painters to come to the surface. Having Chris' skills on hand was really beneficial.
"It was great news when he contacted us and said he wanted to include us in this exhibition. It will be our first museum show in the UK – a pivotal point in terms of canonising our work. It shows the establishment have recognised what you have contributed."
Sam has two pieces titled Vas Deferens and Young Gorbachev in REALITY.
Visitors will see two of Luke's paintings – Adapter and Mining.
Luke, 33, returned to Havering College last year and completed a post graduate teaching course.
He said: "To be included in this exhibition is fantastic. To be honest, first of all I was shocked. It is an honour to be in the company of great artists, such as Francis Bacon, who was such an influence on both of us.
"I believe that having someone like Chris Stevens, who has a respected exhibiting profile, is invaluable for students at the college."
Havering College holds Artsmark Gold status from Arts Council England in recognition of its commitment to, and excellence in arts education.
For further information on Art courses from Level 1 to Level 3 and BA (Honours) degree visit http://www.havering-college.ac.uk, email information(at)havering-college(dot)ac(dot)uk or call 01708 462801.

REALITY: Modern and Contemporary British Painting is at the Sainsbury Centre for Visual Arts, University of East Anglia, Norwich from 27 September 20014-1 March 2015.
The exhibition features works from the following artists: Francis Bacon, Tony Bevan, John Bratby, Cecily Brown, Katarzyna Coleman, Graham Crowley, Ken Currie, Dexter Dalwood, Lucian Freud, Anthony Green, Gwen Hardie, Philip Harris, Clive Head, David Hepher, David Hockney, Luke Jackson, Sam Jackson, Chantal Joffe, John Keane, L.S. Lowry, Alan Macdonald, Jock McFadyen, Paula Rego, Ray Richardson, Terry Setch, George Shaw, Walter Sickert, Stanley Spencer, Chris Stevens, Caroline Walker, Alison Watt, Carel Weight.
For further information on REALITY visit http://scva.ac.uk/