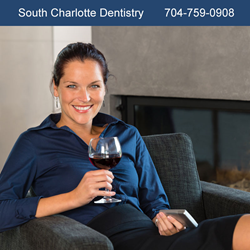 Cavity fighting is the best excuse ever to have that glass of red wine!- Dr. James Wells, Charlotte Dentist
(PRWEB) September 20, 2014
Traditionally dentists have advised their patients against drinking coffee and wine. Dr. Wells of South Charlotte Dentistry is re-visiting that advice and changing his stance after considering two recent studies on the effects that coffee and wine have on oral health. "There's good news and great news," says Dr. Wells, "The studies determined that coffee may be beneficial in protecting against gum disease, and red wine can help fight cavities!"
The study on coffee was from the September 2014 issue of Boston University School of Medicine News Letter. The study on wine was from the May 2014 issue of the Journal of Agricultural and Food Chemistry.
Coffee and red wine might seem like vices or guilty pleasures, but new evidence has emerged that both have some benefit to oral health. "This is a definite win win for our patients," explains Dr. Wells of South Charlotte Dentistry. "Enjoying these drinks in moderation, along with good dental hygiene, has shown to fight gum disease and cavities."
Researchers at Boston University Henry M. Goldman School of Dental Medicine explored the effect coffee has on gum disease. The logic was that coffee contains antioxidants and antioxidants fight gum disease. Therefore, does coffee help fight gum disease? The lead author of the study, Nathan Ng, stated that "Coffee consumption did not have an adverse effect on periodontal health, and, instead, may have protective effects against periodontal disease." The study showed that drinking coffee was associated with a small but statistically significant reduction in periodontal bone loss.
"Coffee is one of my favorite drinks, so I am happy that is helps fight gum disease," says Dr. Wells. He suggests drinking it without sugar and drinking water in between cups of coffee to rinse away acid and stain causing pigments.
A new study published in the ACS' Journal of Agricultural and Food Chemistry shows that red wine can potentially help prevent cavities. M. Victoria Moreno-Arribas and colleagues explain in the study that cavities, periodontal disease and tooth loss affect an estimated 60 to 90 percent of the population worldwide. These problems occur when bacteria builds up in the mouth and form biofilms which are difficult to break up. Red wine along with grape seed extract has been to shown to slow the growth of bacteria. The study concluded that the consumption of red wine with or without alcohol and wine with grape seed extract added were effective in getting rid of bacteria.
"Drink up, in moderation, of course," says Dr. Wells. "Remember that red wine is also acidic like coffee, so drinking or rinsing with water after a glass will help prevent staining and acid build up on the teeth."
These two new studies offer some encouragement to coffee and wine drinkers. Both studies indicate that moderation and balance in consuming these beverages is necessary for overall health. "Drinking too much coffee or wine can stain teeth, so we recommend professional cleanings and offer teeth whitening services," says Dr. Wells.
Dr. Wells'office is located in South Charlotte on Ballantyne Commons Parkway. They offer family dentistry, cosmetic dentistry, and Invisalign. South Charlotte Dentistry has been serving the south charlotte area including Matthews, Pineville, Ballantyne, Weddington, and Indian Trail for over fifteen years. For an appointment or more information, visit their website at http://www.southcharlottedentistry.com.