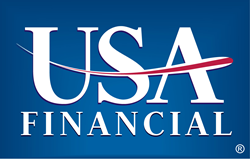 We've really stressed a 'Plan First, Invest Second' philosophy.
Ada, MI (PRWEB) September 15, 2014
In the midst of celebrating 25 years in business, USA Financial found itself enjoying remarkable growth – the kind of business growth that lands yourself amongst some elite companies recognized by Inc. magazine. The Inc. 5000 represents America's fastest growing private companies, and USA Financial landed on that list after a remarkable three-year stretch of 50% growth.
The national firm is unique in many respects, having positioned itself as a multi-dimensional financial services firm focusing on financial advisors and the clients they serve by providing a comprehensive package of financial service offerings and technology solutions. USA Financial is a collection of companies, including USA Financial Securities (FINRA registered, independent broker-dealer), USA Financial Insurance Services (Insurance Wholesale Firm), USA Financial Portformulas (Formulaic Trending Money Manager), USA Financial Plug-N-Run (Technology and Marketing firm), and USA Financial Media (Financial services multi-media firm and producer of the nationally syndicated USA Financial Radio Show). Each of these companies plays a vital role in the overall value proposition offered by USA Financial to its advisors and clients.
"The growth we've enjoyed over the past few years has been the result of a few things," said USA Financial CEO Michael D. Walters. "We've been able to strategically position ourselves to help meet the demands of a new age of financial advisors and clients. In addition we've really stressed a 'Plan First, Invest Second' philosophy, which I think differentiates us from many of the firms out there that really push product and investments."
"The final reason for the company's growth," Walters commented, "has been the tireless work of our team members and advisors. I'm just one cog in a pretty sophisticated wheel, and I'm honored and humbled to be a part of it."
The firm's growth comes on the heels of the Financial Crisis of 2008, a time when many financial services companies were scrambling to keep their heads above water. Since that time, USA Financial has helped manage and direct nearly $3 Billion of client assets. "Consumers demand more comprehensive advice today, and the structure of our firm affords them access to that," said Brent Enders, the firm's president.
While this year marks the first year of inclusion on the Inc. 5000 list for USA Financial, all signs point to future inclusion, as the firm is currently in the middle of another record setting year in 2014.
About USA Financial
Committed to Empowering Advisors and Clients, USA Financial is an independent financial services firm serving both clients and financial advisors throughout the country. Adhering to its "Plan First, Invest Second" philosophy, the firm seeks to find innovative ways to help financial advisors grow their practices and serve their clients with a wide array of financial solutions and technology offerings.