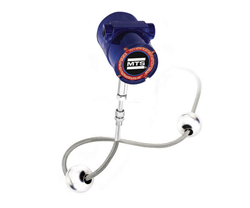 Cary, NC (PRWEB) September 15, 2014
MTS Systems Corporation (NASDAQ: MTSC), a leading global supplier of high-performance test systems and position sensors, today announced that the Chief Controller of Explosives (CCoE) with the Petroleum and Explosives Safety Organisation (PESO) has issued updated safety approvals for Level Plus® M-Series level transmitters Models MR and MG in India. Electrical equipment for use in potentially explosive applications must be compliant with CCoE regulations.
"CCoE approval is important for our continued growth in India," explained Lee Aiken, MTS Sensors Liquid Level Product Marketing Manager. "Our goal is to ensure our products meet the highest possible safety standards worldwide while providing unmatched technical performance."
The Level Plus Model MR transmitter is a two-channel output analog sensor providing reliable 3-in-1 measurement (product level, interface level and temperature) in applications such as petrochemical, liquid petroleum gas, biotech, pharmaceutical, food, beverage, water and wastewater storage, and handling machinery.
The Level Plus Model MG transmitters are modular in design including a removable sensing element feature and can also incorporate 1, 5, or 12 temperature measurement points depending on the output. They are used across many different industries and applications, including custody transfer, inventory control, bulk storage and sanitary process control.
For more information about linear-position sensors and liquid-level measurement, contact: MTS Systems Corp, Sensors Division, 3001 Sheldon Drive, Cary, NC 27513. Phone: +1-919-677-0100. E-mail: info(dot)us(at)mtssensors(dot)com or visit http://www.mtssensors.com.
ABOUT MTS SENSORS
MTS Sensors is a global leader in sensing technologies and solutions that enable feedback control automation and safety applications. MTS Sensors, a division of MTS Systems Corporation, serves its global customers with a focus on regional support to provide innovative and reliable sensing solutions. Through its research, development and production of Level Plus® liquid level transmitters, MTS creates solutions that provide 3-in-1 measurement, providing product level, interface level and temperature from a single process opening. Level Plus® liquid level transmitters are commonly used for automatic tank gauging in the Oil & Gas, Chemical, Petrochemical, Pharmaceutical, Food & Beverage, and Mining Industries.