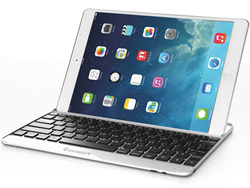 Rokit Boost Promotes iPad Bluetooth Keyboards for More Efficient Student Learning in Tablet-Using Classrooms
New York, NY (PRWEB) September 16, 2014
Just in the time for the beginning phase of the school year, Rokit Boost is helping enhance student learning with its line of Bluetooth keyboards. Increasing numbers of schools are adopting tablets for student use in the classroom, and as a result, consumer demand for a solution that enables quick and easy typing on these tablets is growing.
In a recently-published Washington Post article by Michael Alison Chandler and Hayley Tsukayama, education industry experts say the number of schools purchasing tablets is increasing. United States schools are expected to purchase some 3.5 million tablets by the end of 2014. The National Center for Education Statistics also reports that 1.5 million iPads are used in education settings now and that this number is growing.
Enhancing Student Learning and Classroom Performance
At a time when student use of iPads is increasing, Rokit Boost's functional, easy-to-use wireless keyboards make student learning easier and more efficient. Many students find typing on an iPad itself difficult, especially when they are taking notes or performing other important tasks in class. With their intuitive, user-friendly design, these iPad Bluetooth keyboards enable faster and simpler information input on the iPad Air, iPad Air 2, iPad Air 3, and iPad Air 4. Now text and information input on the iPad does not have to be as much of a hassle.
Both wireless keyboards are ultra-thin and lightweight for easy portability. They meet contemporary standards for aesthetics with their bead-blasted, anodized finish that matches all iPad Air models. Both of the keyboards function as wireless keyboards, iPad covers, and stands. They also both provide good-feeling, quiet keystrokes and come with superior-grade protection with their rustproof and waterproof properties.
Product Availability
Both of these bestselling wireless keyboards can be found for a discounted rate of $19.99 per unit on Rokit Boost's Amazon Store. In line with its commitment to consumer expectations, Rokit Boost offers a 1-year limited warranty and a 30-day money-back guarantee on these mobile device accessories.
More information about these products and Rokit Boost's other bestselling products, including smartphone battery cases, power banks, Bluetooth headphones, and more can be found at: http://www.RokitBoost.com.
About Rokit Boost
Rokit Boost is a pioneer of affordable, high-quality mobile accessories. Whether they are innovations including iPhone charger cases, Bluetooth headphones, or wireless Bluetooth speakers/microphones, Rokit Boost's team seeks to add substantial enhancements to great existing products. The company also offers a refurbishment program of certified products for exceptional customer value, at reduced pricing.