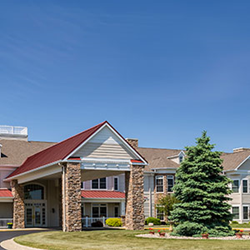 We are fortunate to have have 15 wonderful years, and we are excited to begin our final building phase.
Goshen, Indiana (PRWeb) September 16, 2014—
(PRWEB) September 16, 2014 -- One of the key characteristics of Waterford Crossing Senior Village in Goshen, Indiana is that there is always a lot going on. And the Fall of 2014 will be especially busy as the established retirement living facility moves ahead with plans to finish building the condominiums designed in the original plans.
"When we bought the land and envisioned our perfect senior living scenario, we planned to have multiple condo units available for our residents," said Sharon Risser, Managing Agent and co-founder of Waterford Crossing. "It was never our design to be huge. We believe that limiting our number of residents allows us to give the most attentive service to each person, no matter what level of support is needed." Currently there are just over 200 residents at Waterford Crossing, some living independently in the condos, some in the apartments, and some in the eleven apartment suites in Emily's House.Emily's House offers twenty-four hour security and support for those with memory impairments.
A selection of accommodation options is certainly a key part of any decision for seniors to leave their homes and move into a retirement facility, but in the Goshen area, the standards are also quite high for the quality of life once the move has been made. Waterford Crossing has been on the cutting edge of family interaction with residents through technology, first by adopting the HIPAA-compliant Smile program. It is a web platform that allows for interaction between residents and their families, including reports to family about what their seniors are doing, anecdotes from family to Waterford Crossing from the families about residents, and the sharing of photos. This program is monitored by the Waterford Crossing management team. For family members who do not live close enough to visit often, this has been a crucial venue for keeping in touch with loved ones and staying on top of health and overall wellness news. The Smile program offers technology that encourages even the youngest of family members to have conversations with their senior family members. Another recent addition for Waterford Crossing is their Facebook page. It's another way to post photos of events and activities going on at the facility.
"Too often people fear that once they leave their homes, they will lose touch with old friends and with out-of-town family members," noted Megan Pletcher, Resident Services Coordinator. "With our commitment to using new technology for family outreach, however, we have seen very lively interaction, and our residents really enjoy the connections." Another way Waterford Crossing keeps senior issues in front of the local public is through articles written by co-founder Sharon Risser that are published in the Goshen News. She has written about subjects ranging from how to plan for retirement to how to cope with parents who show signs of dementia.
"We are fortunate to have had fifteen wonderful years," said Sharon Risser. "We are excited to begin our final building phase; in a way it helps us complete our family in our retirement and assisted living environment." New condos should be available in late 2015.
About Waterford Crossing Senior Village
Waterford Crossing Senior Village is a retirement and assisted living facility located in Goshen, Indiana. The complex has a variety of condominiums and apartments, and there is a secure, twenty-four hour service unit called Emily's House for residents with memory impairments. This facility opened fifteen years ago and is home to over two hundred residents.