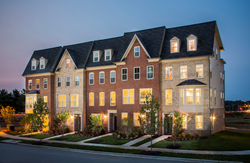 Washington, DC/Reston, VA (PRWEB) September 12, 2014
Comstock Homes of Washington, LC, a wholly owned subsidiary of Comstock Holding Companies, Inc. (NASDAQ: CHCI), has opened a furnished model home and sales center at The Townes at Shady Grove Metro, one of the newest communities in development in Rockville, MD. The neighborhood is located across the street from Metro's Shady Grove Red Line Station. Comstock will be holding a Grand Opening celebration open to the public at The Townes at Shady Grove Metro on Saturday, September 13 from 12 noon to 2:00 p.m. at 7901 Yellowstone Way, Rockville, Maryland, just off Redland Road. Uncle Julio's will provide Mexican delights.
The Townes at Shady Grove Metro is set in one of Montgomery County's most appealing communities and offers 36 townhomes. A future phase of the development will include an urban style 108-unit condominium building, which is expected to commence construction in late 2015. The exclusive transit-oriented neighborhood provides easy access to the Metro's Red Line station, just across the street, as well as easy access to ICC/MD200, I-270, I-495 and I-95.
"The Townes at Shady Grove Metro highlights Comstock's continued commitment to transit-oriented housing in the increasingly congested suburbs of Washington, DC. " reports Comstock spokesperson Maggie Parker. "Pre-construction sales have been robust, but opportunities remain to purchase one of the high-quality, reasonably priced homes in this smart transit-oriented location."
The community will feature amenities not found in other Metro-adjacent homes, including four-level brick front townes with private two-car garage, four bedrooms, four full baths and powder room, opulent owner's suite with luxurious bath and large walk-in closet and a fourth floor retreat with a rooftop terrace and rear balcony. The Townes at Shady Grove Metro are priced from the low $600's.
Plans are being finalized for the condominium building adjacent to the Townes, Momentum at Shady Grove Metro. The Condominium offering will consist of 108 luxury units including studios, one and two bedrooms. Momentum will be four stories of condos above a two levels of secure garage parking and will feature amenities such as a fitness center, club room and a private outdoor courtyard. One bedrooms are expected to start in the low $300's.
For additional information please contact Sandi Thompson at 301.880.1222 or visit http://www.comstockhomes.com.
About Comstock Holding Companies, Inc.
Comstock is a multi-faceted real estate development and services company, which builds a wide range of housing products under its Comstock Homes brand through its wholly owned subsidiary, Comstock Homes of Washington, LC. Our substantial experience in building a diverse range of products including apartments, single-family homes, townhouses, mid-rise condominiums, high-rise condominiums and mixed-use (residential and commercial) developments has positioned Comstock as a prominent real estate developer and homebuilder in the Washington, D.C. metropolitan area. Comstock Holding Companies, Inc. is a publicly traded company, trading on NASDAQ under the symbol CHCI. For more information about Comstock or its projects please visit http://www.comstockhomes.com
Cautionary Statement Regarding Forward-Looking Statements
This release contains "forward-looking" statements that are made pursuant to the Safe Harbor provisions of the Private Securities Litigation Reform Act of 1995. Forward-looking statements involve known and unknown risks and uncertainties that may cause actual future results to differ materially from those projected or contemplated in the forward-looking statements including incurring substantial indebtedness with respect to projects, the diversion of management's attention and other negative consequences. Additional information concerning these and other important risks and uncertainties can be found under the heading "Risk Factors" in the Company's most recent Form 10-K, as filed with the Securities and Exchange Commission. Comstock specifically disclaims any obligation to update or revise any forward-looking statements, whether as a result of new information, future developments or otherwise.