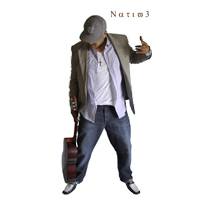 Faith and Works is the key to success. - Nativ3
Albemarle, NC (PRWEB) September 14, 2014
Tired of turning on the radio to your local music station, and having to be presented with music that creates a large percentage of the violence in the world today? Everyone knows the Hip-Hop game, "fancy car this, girls everywhere with diamonds on my wrist, gun on my hip, catch a youngin' when he slips." Yes people, a bunch of loud noise, hitting us in a way that is totally unacceptable, like the knockout game. It seems like there are only a few musicians left still creating meaningful art. To all the listeners out there, there is a new gunner who goes by the name of Nativ3 (Of course that's his artist name) who might be making his way to that top musician list in his near future.
This new artist eliminates the use of profanity, the degrading of women, or the common ABC lyrics heard now a days in Rap. The Nativ3, which is pronounced "Native," just came out with two new singles, "I'm All Shook Up" and "Gucci," which is promoting his new album coming out this fall titled "Nativ3." After hearing the samples on iTunes, these songs had to be downloaded, and added to my playlist. While doing further research on this guy, it was brought my attention that he is signed with a new record label that goes by the name of Higher Living Records, LLC. After visiting their main site, http://www.hlrecordsnet Nativ3 has a free 2013 Mixtape available for download, which officially turned me into a believer and fan.
Not much is known about this new Higher Living Records label, except the information provided on their site, but what is known, is that they have only ONE artist, and that artist is definitely going to take them places.
Website- http://www.hlrecords.net
Facebook- https://www.facebook.com/JamesAkaNativ3
Itunes- https://itunes.apple.com/us/album/im-all-shook-up/id916299485?