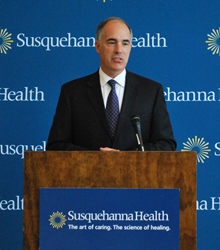 This bill will help improve the prevention, accurate diagnosis and treatment of victims of TBI so that students can safely return to the classroom and continue to learn effectively.
Williamsport, PA (PRWEB) September 12, 2014
U.S. Senator Bob Casey (D-PA) recently selected Susquehanna Health (SH) to voice a call for action on the Traumatic Brain Injury Reauthorization Act of 2014. Senator Casey has taken a leadership role in promoting the bill, which amends the Public Health Service Act to reauthorize resources, programs and research dedicated to traumatic brain injury (TBI) for fiscal years 2015 through 2019.
"Over 60,000 children will sustain brain injuries requiring hospitalization each year," said Senator Casey during the August 25 announcement at Williamsport Regional Medical Center. "This bill will help improve the prevention, accurate diagnosis and treatment of victims of TBI so that students can safely return to the classroom and continue to learn effectively." The reauthorization of this legislation ensures that medical facilities have necessary resources to care for patients with TBI and focuses on research and management of brain injury specifically in children.
"Senator Casey's support of families and children is legendary and has often influenced his selection for key congressional committees. Among the most notable is the Committee on Health, Education and Finance," said SH President & CEO Steven Johnson.
Traumatic Brain Injury (TBI) is a significant and expensive public health challenge. The condition, caused by a blow or jolt to the head, affects the normal function of the brain and can range from a mild concussion to a devastating injury or even death. TBIs are often the result of motor vehicle accidents or falls. Such injuries can also occur as a result of horseback and bicycle riding accidents or sports-related accidents in football, baseball, soccer, basketball and skiing.
"At Susquehanna Health, one in every six patients admitted to our comprehensive physical medicine and rehabilitation unit is the result of traumatic brain injury," said Johnson, who currently serves as chairman of the board of the Hospital & Health System Association of Pennsylvania. "Nearly one-third of all injury-related deaths included a diagnosis of traumatic brain injury."
According to SH Internal and Sports Medicine Specialist Dr. Edward Gusick, the health system treats about 250 sports-related concussions per year. This mild form of TBI is often the result of head-to-head, head-to-ball or head-to-ground contact during practice or contest. SH's plan of action for the prevention and effective treatment of sports-related TBI includes the placement of licensed athletic trainers on the fields at 16 schools throughout northcentral Pennsylvania. The sports medicine team works together with the athletes, parents, coaches and teachers to help prevent injury through education, to diagnose and treat injury and to oversee the injured athlete's safe return to play.
"When we consider the rising number of athletes in sports and the competitiveness of play, it's important to stand behind legislation that increases access to services for our athletes who sustain traumatic brain injuries and assists us in returning them safely to health, learning and to play," said Dr. Gusick.
###
About Susquehanna Health
Susquehanna Health is a four-hospital integrated health system including Divine Providence Hospital, Muncy Valley Hospital, Soldiers + Sailors Memorial Hospital and Williamsport Regional Medical Center located in northcentral Pennsylvania. Serving patients from an 11-county region, Susquehanna Health is a healthcare leader and has been recognized at the national and state levels for quality of care. Susquehanna Health offers a wide array of services that include cancer care, heart and vascular care/heart surgery, neurosciences including neurosurgery, orthopedics, urology, OB/GYN, gastrointestinal services, behavioral health, physical rehabilitation, home care, long term care, assisted living and paramedic/ambulance services.