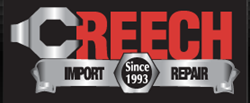 I have no idea how we functioned without the space we just added. I'm very glad we have the extra space now. I know now that we're providing a better service to our customers
Raleigh, NC (PRWEB) September 12, 2014
Customers of Creech Import Repair can now look forward to shorter wait times and faster turn around on their car repairs, thanks to an expansion of the company's facilities this past winter. The expansion includes five new lifts in the garage and 3,600 square feet of extra workspace. Two new employees were also added to the team this summer to improve workflow and meet the repair shop's increasing demands.
Due to the extensive growth of the business, the auto repair shop was experiencing a backlog of repairs for its customers.
"2012 was a record year for us in sales, and 2013 exceeded 2012. This year is looking to be another record year," says Stan Creech, President of Creech Import Repair. The increased volume of car repairs in the shop called for more space to work and a larger staff to accommodate its customers. Construction began in February of 2014 and was finished in March. The two new employees were hired this summer, bringing the total staff count at this particular location to 10 employees.
Since approximately 25% of Creech Import Repair's customers wait in the shop while their cars are being worked on, speeding up the process was a must. The extra lifts and workers have allowed the repair shop to shorten wait time for customers and increase the number of repairs they can handle at one time. With over 10,000 square feet of workspace and room for five mechanics to work on cars, the shop has seen a vast improvement in workflow.
"I have no idea how we functioned without the space we just added. I'm very glad we have the extra space now. I know now that we're providing a better service to our customers," adds Creech.
Customer service is a top priority of Creech Import Repair, and the recent expansion of the company has allowed the auto repair shop to continue putting its customers first.
Creech Import Repair has been serving the Raleigh area for 21 years. They repair many automobile makes and models, including Lexus, Toyota and Honda. The repair company has a 4.8 out of five star customer rating via Google. To learn more, visit creechimport.com