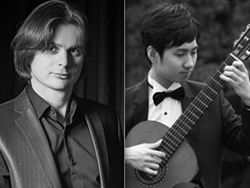 "The October 23 concert at Weill comprises a remarkable range of musical styles!" - Laura Oltman & Michael Newman, Creative Directors
New York NY (PRWEB) September 16, 2014
Carnegie Hall debuts of two up-and-coming classical guitarists, the approaching concert of the D'Addario Performance Series at Carnegie Hall is set to be one of its best.
Laura Oltman and Michael Newman, D'Addario Concert Series Creative Directors, had this to say about the upcoming concert, "The October 23 concert at Weill comprises a remarkable range of musical styles—from favorites by Bach and Albeniz through new classics of the 21st century, including New York Premiere performances of music by Pasieczny, Moscardini, and Smirnov—all performed by two impressive young virtuoso international competition winners, Chiawei Lin of China and Russia's Anton Baranov."
This highly anticipated concert, to be held October 23, 2014, at Carnegie Hall's Weill Recital Hall, will start off with a performance by Chiawei Lin, who began playing guitar at age four in his native Taiwan. Having been the student of Professor Panpei Huang and Showlee Huang, both respected guitarists, Mr. Lin went on to earn many prestigious national honors and awards administered by the Taiwanese government. His aggressive travel schedule has included stops at all of the top international guitar competitions—earning eight first-place prizes and four second-place prizes in the past three years. It was his exceedingly expressive performance at Germany's Koblenz guitar competition that brought him the first-place prize there, as well as an invitation to the 2013-2014 D'Addario Foundation Performance Series. Mr. Lin will skillfully perform Isaac Albeniz's "Cataluna" and Bach's "Sonata No. 3 for Violin," featuring the Adagio, Fuga, Largo, and Allegro assai movements. Other classical pieces will also be included, along with a classical guitar version of John Legend's "All of Me."
Mr. Lin is currently under the tutelage of Professor Hubert Kappel, studying guitar performance at Koblenz International Guitar Academy, in addition to attending Cologne University of Music, located in Cologne, Germany.
Following Mr. Lin's performance will be Russian guitarist Anton Baranov, prizewinner of more than 15 prestigious international guitar competitions. Known for his daring interpretation and innovative programming, he won both the Guitar Foundation of America International Concert Artist Competition and the Francisco Tarrega Competition in 2013. Part of Mr. Baranov's prize from winning the GFA competition featured a 50-city concert tour of the U.S., Mexico, Canada, and Brazil; he has also just released his first album, Guitar Recital: Anton Baranov on the Naxos label. Mr. Baranov's performance will include artfully played sections of Yuri Smirnov's "St. Petersburg Etching" and Guido Santorsola's "Sonata Italiana."
Mr. Baranov graduated from the famous St. Petersburg State Rimsky-Korsakov Conservatory--where he currently teaches--in 2010, under grants from the Russian Ministry of Culture and the Russian Performing Arts Foundation.
D'Addario Performance Series events are held at Weill Hall, the adorned and intimate 268-seat theater nestled inside New York City's famous Carnegie Hall. It's a fitting venue for October's concert—since its opening in 1891, Weill Hall has seen many groundbreaking debuts and premieres, including that of Charles Ives's Violin Sonata No. 3 in 1917, and more by John Cage, Harry Partch and others.
Tickets can be purchased for $25 at http://bit.ly/Performance-Series or by calling CarnegieCharge at 212-247-7800.
Since 1981, the D'Addario Foundation has been committed to inspiring and assisting the growth and appreciation of music throughout the world. The primary mission of the Foundation is to support community-based music-education programs in underserved areas. Many musicians who perform in the Performance Series visit these programs and play for children who may not otherwise have access to live classical music and its artists.
For more information, visit http://www.daddariofoundation.org/performance-series.