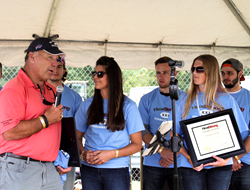 We are so proud to...further hearing health education alongside an organization as impactful as the Buffalo Bills Alumni Foundation
Syracuse, NY (PRWEB) September 16, 2014
On September 14, the HearStrong Foundation celebrated HearStrong Champion Danielle Strassle at the 2014 Buffalo Bills Alumni Foundation VIP Tailgate event outside Ralph Wilson Stadium in Buffalo, NY.
Bills legend and NFL Hall-of-Famer Joe DeLamielleure, who also experiences hearing loss, assisted the foundation in honoring Strassle for her dedication in overcoming hearing difficulties to achieve her personal and professional goals and inspire others in her community to do the same.
Nominated by Hearing Evaluation Services of Buffalo, a selected provider of EarQ, the main sponsor of the HearStrong Foundation and a member discount program provider of the NFL Players Association, Strassle was diagnosed with severe-to-profound hearing loss as an infant. Her early utilization of hearing devices and technology allowed her the confidence to experience her life on her terms and reach her athletic goals. This summer alone, Strassle has completed three triathlons.
"As an amazing triathlete, Danielle is a wonderful example of how choosing to utilize hearing technology to hear better is a decision made out of strength, not weakness," said Ed Keller, founder of the HearStrong Foundation. "We are so proud to have the opportunity to celebrate her efforts and further hearing health education alongside an organization as impactful as the Buffalo Bills Alumni Foundation."
*****
About the HearStrong Foundation:
The HearStrong Foundation is a 501(c)(3) not-for-profit organization that seeks to shatter the stereotypes surrounding hearing loss and its advanced solutions by honoring the accomplishments of those who have overcome hearing loss and inspire others to do the same. Supported by the dedication of EarQ providers, the foundation is a worldwide advocate for hearing loss awareness, education and support. For more information about the foundation, or to nominate a HearStrong Champion, please visit http://www.hearstrong.org or contact: info(at)hearstrong(dot)org
Like us on Facebook
Follow us on Twitter
About EarQ:
A strategy and consulting firm that supports hearing healthcare providers nationwide, EarQ utilizes innovative business and marketing practices, national public awareness efforts and advocates for excellence in private patient care. Through its 1,400 hearing healthcare provider locations nationwide, EarQ will help provide greater access to quality hearing healthcare services and products.
http://www.earq.com
Like us on Facebook
Follow us on Twitter