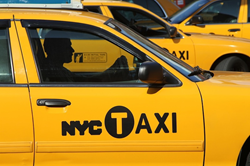 When you lower the speed limit, the chances of a person being killed is cut in half when you reduce the speed limit of the moving vehicle from 30 to 25
New York, NY (PRWEB) September 17, 2014
In mid-August Governor Andrew Cuomo signed legislation that lowered New York City's speed limit from 30 mph to 25 mph. The bill was called "Vision Zero". The legislation will go into effect in December after the city approves its own law making it formal. The legislation, introduced by Bronx Sen. Jeff Klein, overwhelmingly passed the state Senate on the last day of the legislative session in June. The goal of this legislation is to reduce the number of deaths of pedestrians and motorists. In 2013, New York City had 176 pedestrian deaths according to the New York Department of Transportation. The death rate has increased in recent years causing alarm among politicians. Mayor Bill de Blasio has indicated the speed reduction is part of his "Vision Zero" plan to end traffic deaths in NYC.
According to the AAA Foundation for Traffic Safety 2011 report titled Impact Speed and a Pedestrians Risk of Severe Injury or Death the risk to a pedestrian varies by age of the pedestrian and speed of the vehicle. The average risk of severe injury by speed is:
10% at 16mph
25% at 23mph
50% at 31mph
75% at 39mph
90% at 46mph
The average risk of death by speed is:
10% at 23mph
25% at 32 mph
50% at 42mph
75% at 50mph
90% at 58mph
In addition the report noted that the risk at a lower speed is higher for an older person. For a 70 year old the risk of death at 25mph is the same as the risk for a 30 year old at 35mph.
Department of Transportation Commissioner Polly Trottenberg echoed the sentiment of Governor Cuomo, saying the move will save lives.
"When you lower the speed limit, the chances of a person being killed is cut in half when you reduce the speed limit of the moving vehicle from 30 to 25," she said. The hope is to reduce the number of New York Pedestrian accidents as soon as possible.
New York City is known as one of the most frequently visited cities in the world. Over 54 million tourists made their way to the Big Apple in 2013. The lack of familiarity with the street and traffic patterns leaves tourists especially vulnerable to being injured in pedestrian accidents.
If a pedestrian has been injured in a car accident it is recommended they seek the advice and aid of an experienced new york city car accident attorney. Attorney Harlan Thompson hopes that the decrease in speed limits will decrease the number of accidents in the city, he says, "Something has to change. I hope this is the answer." The attorneys at Pulvers, Pulvers, Thompson, & Friedman have experience handling NYC car accident cases. Contact PPT&F today for a free personal injury consultation.