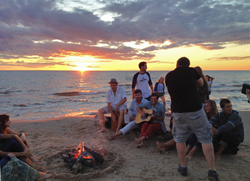 Traverse City, MI (PRWEB) September 14, 2014
"Take Me There," the winning song in Traverse City Tourism's 2014 Song Search contest, is available in a new YouTube video. It features The Hacky Turtles -- the four young Traverse City men who wrote the song and performed it during the 2014 National Cherry Festival -- and an evocative series of local landscapes and scenes displaying some of the highlights of the Traverse City region.
"Take Me There" was selected from 18 entries submitted in this summer's Song Search contest. The Hacky Turtles consist of vocalist Marc Kanitz, Austin Spencer on guitar, Alex Rushlow on guitar/vocals and Erik Krueger on drums. They describe themselves as a "funk/reggae fusion band with strong folk roots," and their song is a wistful celebration of the things they love best about Traverse City.
The new music video was produced by local photographer/videographer Andy Wakeman, who started with a sunset shoot and bonfire with the band at Lake Michigan in late July, on what may have been the most beautiful night of the summer, and added vignettes of people enjoying some of the area's many activities and attractions. The video will be highlighted on the Pure Michigan Blog and Traverse City Tourism's own website and Facebook page.
Organized in 1981 as the Traverse City Area Convention and Visitors Bureau, Traverse City Tourism is a nonprofit corporation that serves as the area's official Destination Marketing Organization. Its focused mission is to stimulate economic growth through the attraction of convention business and leisure tourism development.