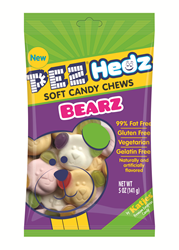 Orange, CT (PRWEB) September 14, 2014
PEZ® Hedz are premium soft candy chews in the shape of fun designs like those characters you would find on the iconic PEZ dispensers. These innovative new concepts will be produced for PEZ by Katjes, a well established quality manufacturer of premium products, based in Germany.
Katjes has pioneered an exciting new technology to create a unique textured and high quality character impression for PEZ Hedz. This new and fun product is unlike any other product in this category or in the market today.
PEZ Hedz will initially be introduced with two designs: Hello Kitty in strawberry and raspberry flavors and PEZ Bearz in peach, grape and cherry. Each candy is slightly larger than a quarter in size and features gummy accents. For example, the raspberry flavored Hello Kitty has a delicious blueberry bow and the grape flavored Bearz design has Lemon and Strawberry flavored ears.
"As has been the case for nearly 88 years, PEZ has produced products with iconic shapes and character heads, PEZ Hedz will continue this tradition attracting a broader range of consumers," stated Joe Vittoria, President and CEO of PEZ Candy, Inc. "Whether consumers will enjoy them whole or eat the different parts one bite at a time, PEZ Hedz are just as much fun as our traditional PEZ dispensers and candy."
PEZ Hedz are packaged in 5 oz. peggable bags and will also be available in various promotional displays for launch this fall.
About PEZ Candy, Inc.
PEZ Candy, Inc. is the pioneer of "interactive candy" that is both enjoyable to eat and fun to play with. PEZ Dispensers are a hot collectable for adults and children alike and have been a staple of American pop culture for over 50 years. To learn more, visit http://www.pez.com
If you would like more information about PEZ Candy, Inc., please call Amy Kopchak at (203) 795-0531 x292 or email at kopchak(at)pezcandyinc(dot)com.