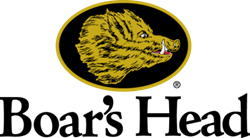 Sarasota, FL (PRWEB) September 15, 2014
Boar's Head Brand®, one of the nation's leading providers of premium delicatessen foods, invites cheese connoisseurs to explore and create pairings with a new virtual cheese board experience on http://www.boarshead.com/cheeseboard. The interactive cheese board allows fans to mix and match Boar's Head premium cheeses and specialty meats, along with other delicious accoutrements.
"Cheese is a passion for Boar's Head, just as it is for many Americans. There can sometimes be apprehension when it comes to choosing the right mix of cheeses and accoutrements to create the perfect cheese board," said Elizabeth Ward, director of communications for Boar's Head. "To help, we're inviting fans to virtually create a variety of delectable cheese boards by mixing and matching premium cheeses and delicacies online. Once the spread is perfected, our online tool encourages recreation at home to share with friends and family."
The Secret Ingredient: Boar's Head Cheese
Boar's Head cheeses are expertly crafted by passionate cheese makers who employ the most exacting measures to ensure extraordinary taste. From premium aged imported specialties like Gold Label Switzerland Swiss® Cheese to American favorites like Cheddar and Monterey Jack, Boar's Head has an assortment of more than 50 delectable cheese varieties to please even the most discerning palates.
Pairing Perfection
Boar's Head shares a few tips for creating the ultimate cheese board online and at home:

Cheese Flavors and Texture: When pairing, select cheeses that are contrasting in taste and texture. Balance the sweet with the strong and the firm with the creamy. To add contrast, include Gold Label Switzerland Swiss Cheese, a bold and nutty variety with earthy notes. This incredibly balanced cheese is crafted in Switzerland by seasoned cheese masters and aged for over 120 days.
Add in a Mixture of Meats: Nothing pairs with premium cheeses like charcuterie – the art of smoking and curing meats. A crowd pleasing cheese board should include a Boar's Head specialty meat such as Bianco D'Oro® Italian Dry Salame or Prosciutto Di Parma®.
Accent with Accoutrements: Enhance your cheese board with a balance of sweet and salty ingredients. Fruits like grapes and figs complement many cheeses, as do olives and toasted crackers.
To explore pairings and create a virtual cheese board with a printable shopping list, visit http://www.boarshead.com/cheeseboard.
Boar's Head cheese is available at select supermarkets, gourmet stores and fine delicatessens nationwide. For more information about its premium line of cheeses, please visit http://www.boarshead.com/cheese, like us on Facebook at http://www.facebook.com/boarshead or follow Boar's Head on Twitter @Boars_Head.
About Boar's Head
Founded in 1905, Boar's Head Brand has upheld a commitment to unwavering standards for quality for over a century, refusing to take shortcuts that compromise the integrity of its products for the sake of convenience or economy. What started with just a few products has grown to over 500, ranging from premium delicatessen meats, cheeses and condiments to an array of Italian and Old World Specialties, hummus and foodservice items. All Boar's Head meats, cheeses, spreads and condiments contain no fillers, by-products, artificial colors or flavors, gluten or trans fat. For more information, visit boarshead.com or facebook.com/boarshead.