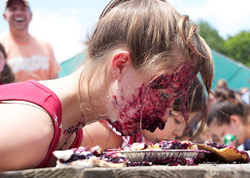 Toms River, NJ (PRWEB) September 12, 2014
It's as easy as pie! Campers gathered around in front of the general store on Sunday evening, August 31, 2014 to watch participants compete in Surf & Stream Campground's first ever Pie Eating Contest. Guests of all ages put their faces and bellies to the test to win a grand prize of $100 cash.
Pie eaters were instructed to devour a blueberry pie as fast as they could with their hands tied behind their backs. The first to eat the entire pie and lick their plate clean won the competition. Contestants included twelve children and adults. Employees were excluded from participating.
The winner of the contest was 12-year-old Polin Gaestal who was camping with his family.
About Surf n' Stream Campground
Surf n' Stream Campground is a family-friendly RV park located near all of the most popular beaches at the Jersey Shore. The campground includes a full-size swimming pool, picnic area, activities for all ages, weekend events and more. For more information about Surf n' Stream Campground, visit their website at http://www.surfnstream.com or call 732.349.8919.