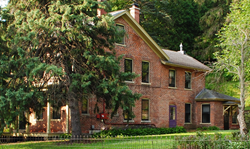 Galena, Ill. (PRWEB) September 12, 2014
From cozy cottages to grand Queen Annes, Galena's incredible architecture will take center stage during the 47th Annual Tour of Historic Galena Homes. Preservation, interior decorating, antiques and history are featured elements of the popular event hosted by the Galena-Jo Daviess County Historical Society. The guided tour runs from 9 a.m.-5 p.m. rain or shine Sat.-Sun., Sept. 27-28.
"This year's homes are just as various and fascinating as in years past," said Ray Werner of the Historical Society. "We have some of Galena's oldest homes coupled with some buildings that have been repurposed over the years. They will create a sort of adventure into the past."
Included with the price of a Home Tour Ticket is free admission to the Galena & U.S. Grant Museum (211 S. Bench Street) on the days of the tour. This museum features special collections, artifacts related to Galena's past, an access to Illinois' only open lead mine shaft and a life-size painting of Lee's surrender to Grant at Appomattox. More than 6,000 sq. ft. of exhibit space are accompanied by videos and an introductory hologram.
Tickets for the event are $17 per person and can be purchased at any of the Home Tour homes and Galena & U.S. Grant Museum on days of the tour or at the Old Train Depot Information Center on Saturday. Free shuttles will be provided Saturday to all locations, including public parking areas near the Depot and behind the DeSoto House Hotel. On Sunday, parking can be found near each of the homes. More information and a map of Tour homes can be found at http://www.galenahistory.org.
On Saturday, a reception will be held at the historic Turney House (612 Spring Street). Galena River Wine & Cheese will provide hors d'oeuvres and wine selections. Mark Haman will present a living history performance of John Turney, Galena's first lawyer, scripted by Ronn Toebaas. Limited tickets are available. Reservations are required for this event. Tickets for the reception are $75 per person and include access to the Galena & U.S. Grant Museum on the days of the tour and the Homes tour.
Call 815.777.9129 for information and reservations. The entire weekend of events are sponsored by First Community Bank and Galena River Wine & Cheese.
Galena is home to one of "America's Best Main Streets" (Fodor's Travel 2014). For more information on Galena and the surrounding area, go to http://www.VisitGalena.org or call 888.942.5362. While in town, stop by the Welcome Center in the Old Market House (123 N. Commerce Street).