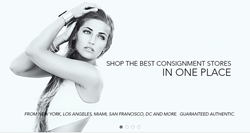 Washington, D.C. (PRWEB) September 14, 2014
C. Madeleine's, the famous designer vintage and consignment showroom in North Miami Beach, is SnobSwap.com's newest store partner. The boutique is best known for its fashion through the decades and long-standing celebrity clientele, including Tory Burch and Lauren Santo Domingo. Along with other notable boutiques such as INA and Secondi, C. Madeleine's is using SnobSwap.com's e-commerce platform as a gateway to reach their target demographic.
SnobSwap.com is the premier luxury resale marketplace to shop the nation's best consignment boutiques and top closets. The team curates only the finest boutiques that offer authentic, high quality, and in-style merchandise to join the site. With a cult like following and accolades from fashion magazines, C. Madeleine's is a strong partnership for SnobSwap.
Referred by Lucky Magazine as a "vintage paradise" and by Vogue as "Miami's best kept secret," C. Madeleine's is pulling pieces from their 10,000 square foot showroom and listing "100 years of fashion" on SnobSwap, adding another level of designer vintage to the luxury resale site's already robust inventory.
According to the owner Madeleine Kirsch, C. Madeleine's "will be offering a wide array of items representing many of the classic couturiers from the past to many of the brilliant young designers from the last few years whose pieces will become classic in the future." With such a vast inventory, there is something for everyone.
C. Madeleine's launched on SnobSwap with vintage designer pieces including a 1980's Chanel Blouse, Versace Bathing Suit, Moschino Graphic Print Skirt, and Dolce & Gabbana Denim Bustier.
Visit https://snobswap.com/boutique/cmadeleines to shop.
ABOUT SNOBSWAP
SnobSwap is the premier online platform to sell, swap and shop pre-owned designer clothing, handbags, shoes and accessories. SnobSwap is the only online marketplace that brings access to the best consignment stores and top closets in one destination.