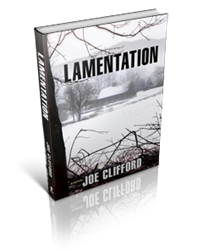 'Clifford (Junkie Love) understands human potential for moral collapse and redemption, and his lean, gritty prose never lets characters or readers off the hook.'—Publishers Weekly (Starred Review)
Longboat Key, Florida (PRWEB) September 15, 2014
LAMENTATION by Joe Clifford will be available nationwide in hardcover (ISBN: 978-1-60809-133-1, 201 pages, thriller, $25.95) and all digital/ebook formats (ISBN: 978-1-60809-134-8, $14.95) on October 21, 2014.
The Story...
In a frigid New Hampshire winter, Jay Porter is trying to eke out a living and maintain some semblance of a relationship with his former girlfriend and their two-year-old son. When he receives an urgent call that Chris, his drug-addicted and chronically drunk brother, is being questioned by the sheriff about his missing junkie business partner, Jay feels obliged to come to his rescue.
After Jay negotiates his brother's release from the county jail, Chris disappears into the night. As Jay begins to search for him, he is plunged into a cauldron of ugly lies and long-kept secrets that could tear apart his small hometown and threaten the lives of Jay and all those he holds dear.
Powerful forces come into play that will stop at nothing until Chris is dead and the information he harbors is destroyed.
About the Author...
Since getting off of the streets, where he spent most of the 1990s, Joe Clifford has made writing his life. He is a "rock 'n' roll" writer who comes from a cutting-edge background and has successfully transitioned to the mainstream, which allows him to keep afloat in both worlds.
Clifford is the acquisitions editor for Gutter Books and managing editor of The Flash Fiction Offensive. He is also the producer of Lip Service West, a "gritty, real, raw" reading series in Oakland, California, and the author of three books: Choice Cuts, Wake the Undertaker, and Junkie Love. His popular blog, "Candy and Cigarettes," provides him with a strong link to his fans.
Clifford lives in California with his wife, Justine, and their son.
Joe's Blog:Candy and Cigarettes
The Early Reviews...
"Clifford (Junkie Love) understands human potential for moral collapse and redemption, and his lean, gritty prose never lets characters or readers off the hook."
—Publishers Weekly (Starred Review)
"VERDICT: Clifford's fourth book (after Choice Cuts, Wake the Undertaker, and Junkie Love) paints a bleak but honest picture of northern New England. A taut thriller rendered in vivid prose, this book contains only a few surprises but builds a relentless, compelling momentum. Recommended for noir lovers and readers of novels set in New England."
—Library Journal
LAMENTATION will be available through public libraries and all better booksellers nationwide, October 21, 2014.
LAMENTATION is distributed by Midpoint Trade Books, Ingram, Baker & Taylor, Bookazine, OverDrive, and all other better literary distributors.
Author Joe Clifford is available for interview and appearances. Please send inquiries to publicist, David Ivester at davidi(at)oceanviewpub(dot)om.