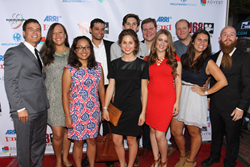 This year's winners were selected from among dozens of international submissions
Los Angeles, CA (PRWEB) September 14, 2014
168 Film this evening announced the winners of its short filmmaking competition at the 12th Annual 168 Film Festival. The gala award ceremony – presented as an international celebration of faith in film – took place at the Aratani Japanese Theater in Downtown Los Angeles.
The 168 Film Festival showcases short films that have been shot in 168 hours (7 days); each based on a selected Bible verse tied into this year's theme, "The Gift." The event is presented by 168 Film, an organization founded by John David Ware in 2003 to train and equip filmmakers in the how-to's of making God-honoring films.
2014 Winners List
Making of 168 Award
Making of TULA TULA, Diane Vermooten
Best Student Film
DG, Rachel Martin
Best Sound Design
TULA TULA, Chris van der Burgh
Best Original Score
WHAT SHOWERS BRING, Sean Massey
168 Award
Steve and David Puffenberger
Best Hair and Makeup
THE MANTLE OF GRANNY BELLE, Dayna Miller
Best Scriptural Integration
THE RANCH, Richard Lee Warren, Writer
Evangelista Award
McKENZIE'S GIFTS, Nancy Bethea, Writer
Best KidVid
GIFT OF GRACE, Mark Baird, Writer
Best Screenplay Comedy
THE PARCEL, April Manor and Liz Hewes, Writers
Best Production Design
SKYWATCH: THE DUSTER ROOM, Shar-Lee Jessica Nel
Best Editor
INSULIN, Shaun Wood
Best Actor
J. Patrick Wise as Tyus Cain in AYAAN
Best Actress
Kelli Goss as Rachel in WHAT SHOWERS BRING
Best Supporting Actor
Anele Matoti as Dr Zolani in TULA TULA
Best Supporting Actress
Pumeza Matoti as Allile in TULA TULA
Best Screenplay Drama
TULA TULA, Diane Vermooten, Writer
Best Documentary
IDENTITY, Arthur Delgado, Producer
Best Write of Passage Spotlight Film
STUCK, Aaron Kamp, Producer
Best International Film
TULA TULA, Diane Vermooten, Producer
Best Comedy
UNPLUGGED, James Runcorn, Producer
Best Cinematography
Cipta Gelar, Fredrik Wattimena, DP
Best Director
TULA TULA, Shane Vermooten
Best Film
WHAT SHOWERS BRING, Daniel Furukawa, Producer
Audience Favorite
REMNANT, Joe Osborn, Producer
TULA, TULA, Diane Vermooten, Producer
This year's winners were selected from among dozens of international submissions and were saluted by a host of celebrity presenters, including four-time Emmy Winner Michael Learned (The Waltons, Nurse); Nathan Kress (iCarly, Into the Storm), Kelsey Scott (12 Years a Slave) and twice Emmy nominated actor Max Gail (Barney Miller, 42).
Among this year's winners are the super talented husband and wife team, Anele Matoti and Pumeza Matoti, who pulled in Best Supporting Actor and Best Supporting Actress awards, respectively, for the South African entry Tula Tula. The film, which also features the debut of the couple's infant, picked up the Best International Film award.
Before news of his win, Anele Matoti said, "My wife Pumeza Nolumanyano Rashe Matoti and I are at it again! Now we are both nominated for supporting roles in the socially relevant short film Tula Tula, produced by Media Village. Here is to continuing to do what we love!"
The 12th Annual 168 Film Festival featured an "all-star" Presenter line-up including four-time Emmy winner Michael Learned (The Waltons, Nurse); Nathan Kress (iCarly, Into the Storm); Kelsey Scott (12 Years a Slave); this year's Host, comedian Kerri Pomarolli (The Tonight Show, Comedy Central, Lifetime); Vincent Irizarry (All My Children, Heartbreak Ridge, Homeland); twice Emmy nominated actor Max Gail (Barney Miller, 42); Writer, Director Sean McNamara (Soul Surfer, Hoovey); Melissa Biggs (Baywatch, Dreamz: The Movie); Kim Estes (NCIS, Law & Order: L.A.; The Closer, The Matador, Rake); Denise Grayson (The Social Network, Shameless); Melissa Disney (As Told By Ginger; Superman: Unbound); and Bryan E. Miller (film composer America, American Idol, Dancing With the Stars, Next Top Model, Access Hollywood.)
This year's festival took on additional importance as the press declared 2014 as "The Year of Christian Film," following a host of box-office hits that grossed record numbers while dealing with faith-based themes (God's Not Dead, Heaven Is For Real, Son of God, Noah).
For B-Roll, cut and paste the following link into your browser: http://www.desertrockentertainment.com/168/2014_168_tv_broll_v2.zip. For more information, contact the 168 Film office at 818-557-8507, or visit http://www.168film.com
###
NOTE
B-Roll Link contains 3 clips. Clip Two features South Africa's "Tula Tula," winner of Best International Film. Clip Three features "What Showers Bring" by Daniel Furukawa from L.A., Winner of Best Film.