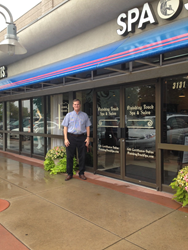 Boulder, Colo. (PRWEB) September 18, 2014
Going from construction engineer to salon owner may seem like an unheard of career transition, but for Jon Potter, that's exactly what happened. After working for 31 years in the construction industry in Kansas, Potter shifted his sights, moved to Colorado with his wife and opened a full-service salon and spa.
"I thought it would be great to try something totally different," Potter said. As a first-time business owner, he now enjoys interacting with his customers and seeing his ideas come to life through the success of his salon.
While searching for ways to finance his business purchase, Potter discovered Guidant Financial thanks to an online advertisement. Using Guidant's signature 401(k) rollover service, Potter was able to leverage funds in his retirement account to invest in his new business without paying a tax penalty.
"[The team at Guidant] was very impressive," Potter stated. "They led me through the entire process." As a result, he was able to finance his business debt-free.
Finishing Touch Spa & Salon offers a tropical-themed environment that strives to offer an escape from everyday life as clients enjoy their treatments. The salon provides services ranging from haircuts and colors to facials and manicures to luxurious spa packages including massage and sessions in their steam sauna. Loyal customers can purchase a VIP spa membership to receive a discount on every visit, and the salon also offers packages for couples and bridal groups.
Finishing Touch, located at 3131 28th St. in Boulder, is now open for business. To learn more about the pampering services they offer or to schedule an appointment, visit finishingtouchspa.com, call 303-449-1852 or email jsmcpotter(at)att(dot)com.
###
About Finishing Touch Spa & Salon
At Finishing Touch Spa & Salon, customers can expect a pleasant retreat from their hectic lives. With a tropical atmosphere, Finishing Touch's services pamper each client and give them a chance to unwind, renew and rejuvenate. The salon's experienced staff are on hand for haircuts, colors, Brazilian blowouts, manicures and pedicures, while the spa offers facials and peels, microdermabrasion, therapeutic massage, laser hair removal, waxing and more. Packages for couple and bridal groups are also available. Learn more at finishingtouchspa.com.
About Guidant Financial
Guidant Financial helps people create the life they want through innovative small business financing. They are the premier provider of rollovers for business start-ups (ROBS). Guidant's services allow people from all walks of life the freedom to purchase small businesses and franchises using their retirement funds without taking a taxable distribution or getting a loan, in addition to offering traditional funding options such as SBA loans, portfolio loans and unsecured credit. Visit Guidant on the Web at guidantfinancial.com.