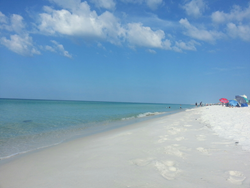 Locals consider fall the most beautiful time of year in Destin.
Destin, Fla. (PRWEB) September 15, 2014
As the temperatures begin to cool and Autumn tides roll in, Northwest Florida beaches are bathed in fall splendor. While changing leaves add color to northern cities, Mother Nature also paints Destin, Fla. in a swath of vivid hues. From the bright white sand beaches to the shimmering azure waters reflecting off the vibrant blue sky to the orange, pink and red sunsets, the coastal colors of fall are stunning. As an added benefit to those who wish to enjoy the impressive shades of fall along the Gulf Coast, Newman-Dailey Resort Properties is introducing Destin vacation deals now through Nov. 14.
"We know the beach is where you'd rather be, but finding the time for a fall beach getaway can be tricky," said Jeanne Dailey, founder and CEO of Newman-Dailey. "So we're giving travelers an excuse to getaway to Destin's beaches and stay longer."
Newman-Dailey's fall special offers include two specials: "3 For 15" and "4 For 20". Guests who book a three night stay under the promotion will receive 15% off the already low seasonal fall rates, while guests who book a four night stay or more using this promotion will receive a 20% discount on top of the reduced fall rates.
Locals consider fall the most beautiful time of year along the beaches of South Walton and Destin, Fla. The air is cool but the emerald green waters are warm and inviting for swimming. Summer crowds are a distant memory and sparsely populated white sand beaches are a welcome sight for beach lovers and nesting sea turtles alike. Add to that the spectacular fall sunsets and the migration of the Monarch butterfly, which brings a golden flutter to the dunes, and visitors to the coast quickly begin to see why a fall beach escape is a coveted treasure. In addition, the calendar is filled with fall events, including wine festivals, art exhibitions and nature excursions, making a trip to Destin in the fall a cherished tradition for many.
From one bedroom condos to spacious five bedroom Destin beach houses, Newman-Dailey's Destin vacation rentals are vast. In addition, guests of Newman-Dailey receive the Newman-Dailey Gift Card, good toward area activities, attractions and free movie rentals. The fall Destin vacation special offer is good for stays now through Nov. 14, 2014 with Promo Code: 3FOR15* or 4FOR20*.
*Some restrictions apply. This offer is good with new reservations for stays of three nights or more Sept. 2 through Nov. 14, 2014. Not valid for long term and monthly rentals or the Beachside Inn.
###