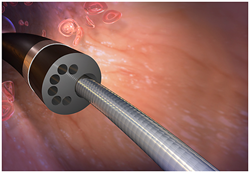 Safety was top-of-mind when we initiated the first-in-man procedure in Frankfurt. We are elated to report that the procedure's outcomes were successful
Frankfurt, Germany (PRWEB) September 19, 2014
The Translational Research Institute "TRI Medical" announced today that its new ND® Infusion Catheter is being used in a first-in-man procedure at the University of Frankfurt.
The study commenced on September 4th, 2014 at the University of Frankfurt, Department of Cardiology. The use of the new catheter demonstrated a number of advancements in the delivery of regenerative therapeutics, commonly known as stem cells. "We are at the forefront of revolutionizing stem cell delivery to the heart," TRI Medical's Nabil Dib, MD, Msc, offered. "The ND® Infusion Catheter provides safety and potential efficacy. The catheter also reduces the procedure time to approximately 15 minutes; enabling patients to walk and resume activities in about 2 hours," Dr. Dib continued.
The renowned German Cardiology Center at the University of Frankfurt has extensive experience with the development of cardiac cell-based regenerative therapeutics. Prof. Dr. Andreas M. Zeiher, Chairman of the Department of Cardiology at the University of Frankfurt stated "The catheter provides the unique potential to precisely regulate coronary blood flow, while administering cells directly into the heart thus improving safety and potentially efficacy. The innovative design of the catheter's balloon accommodates different vessel sizes, avoiding the need to use multiple catheters, reducing potential risks associated with exchanging the balloon catheter when treating different coronary arteries in an individual patient."
"Prior to the first-in-man procedure, extensive cell compatibility testing of bone marrow derived cells with the ND® Infusion Catheter revealed that the catheter preserved cell viability and functionality," Stefanie Dimmeler, PhD and Director of the Institute of Cardiovascular Regeneration, Centre of Molecular Medicine stated. "The testing proved that the cells are compatible with the ND® Infusion Catheter. We see this as potential improvements in safety and clinical outcomes related to cell function and efficacy in patients," Dr. Dimmeler offered.
"Safety was top-of-mind when we initiated the first-in-man procedure in Frankfurt. We are elated to report that the procedure's outcomes were successful," Dr. Dib stated. Earlier studies revealed that the ND® Infusion Catheter reduces cellular clumping, preserves cell viability, improves dispersion and reduces radial forces on the vessel walls during balloon inflation; which collectively might improve patient safety and clinical outcomes.
TRI Medical's Ron Anson, Vice President of Business Development shared "The catheter's unique design features provide physicians with a valuable new tool in the delivery of specified fluids such as stem cells. We expect to see significant growth in the stem cell research marketplace for the new, state-of-the-art ND® Infusion Catheter."
ABOUT TRI Medical
TRI Medical is a privately held, medical device development company. TRI Medical is dedicated to providing a pathway to regulatory approval that is efficient, predictable and cost effective.
#####
Media inquiries regarding TRI Medical, its capabilities and for additional information regarding the ND® Infusion Catheter contact: DeAnn Dana
Phone: 480.309.2884
Email: DDana(at)TRImedical.com
TRI Medical website: http://www.trimedical.com