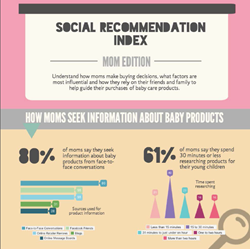 "When moms find something they love, they will get out there and share their experiences," says Susan Frech, chief executive officer, Social Media Link.
New York, NY (PRWEB) September 15, 2014
A new survey of 8,047 moms who are active in social media found that when it comes to buying products for baby, brand loyalty is trumped when they have an opportunity to try new products through sampling, or when someone they know and trust recommends the product. Fifty-two percent said they're influenced by a positive review and 35% by a brand name.
The Social Recommendation Index, Mom Edition, was sponsored and conducted by advocacy activation company, Social Media Link (http://www.socialmedialink.com), part of the company's ongoing investigation into shopping behaviors.
Moms Seek Out Information From Friends Offline and Online First; Mommy Blogs Less Influential
The majority of moms (80%) seek information about product through face-to-face conversations; over half look to Facebook friends (55%) or online retailer reviews (55%). Fifty-one percent of moms make those face-to-face conversations their first stop for information. Only 31% say they search for product recommendations from blogs.
Instead, moms say they're inclined to buy a particular baby product if they used the product with older children (53%) received a free sample (51%) or had a positive experience with the brand's other products (46%).
"This survey shows that moms need and seek input when deciding what to buy for their babies, and they turn to their closest circles first for advice," says Susan Frech, chief executive officer, Social Media Link. The company has over 400,000 socially active enthusiasts in its network. "It also demonstrated that when moms find something they love, they will get out there and share their experiences."
One Review Can Change A Mind
A surprise from the study was that one review can hold significant sway for moms and context matters, who is reviewing and how they describe the baby product:

20% percent said that one review from a close friend or family member is all they need to see to help them make up their minds.
65%, nearly two-thirds, said they read at least one and as many as nine reviews before purchasing.
81% noted that reviews with personal stories held the most weight
62% said they were swayed by a list of product pros and cons
Moms Give Their Opinions Back
Once they find a product they love, moms love to talk about it. 80% of moms surveyed said they shared with friends in face-to-face conversations, 77% said they shared their experience with baby products on Facebook.
They shared because they had a positive experience with the product (93%), 66% said they shared after having a negative experience. Full-sized product samples for their own use and coupons to hand out to others are also motivators for sharing, 69% and 65% of moms noted they shared after receiving those.
Survey Methodology: The Social Recommendation Index: Mom Edition is an online quantitative survey which was issued to 8,047 Moms within the Smiley 360 (smiley360.com) community from May 6, 2014 – May 27, 2014 who have at least one child under 12 years of age. In total, 10,018 respondents from the community answered an 18 question online survey. For questions and more information, please contact Jordan.Herrmann(at)socialmedialink(dot)com
INFOGRAPHIC WITH SURVEY DETAILS AVAILABLE. http://www2.socialmedialink.com/social-recommendation-mom-edition
About Social Media Link: Social Media Link (SML) http://www.socialmedialink.com
is the leading advocacy activation company that amplifies social media conversation for brands. The company makes it easy for brands to activate impactful and trusted reviews and recommendations across social media, triggering in-store action and leading consumers through the path to purchase.
SML's brand activation platform, Smiley360.com, is a social community for influential people who love brands. Marketers utilize the platform to activate targeted consumers to experience their brand and share reviews with the social networks they influence. Proprietary Single-Click Sharing™ technology makes it easy for consumers to feed reviews to their most preferred social networks in one place, giving brands enormous exposure in social channels from passionate consumers.
TAGS: Moms, mommy, mom bloggers, baby products, mom survey, consumer reviews, Facebook, blogs, social media link, influencer activation, influence, influencer advocacy