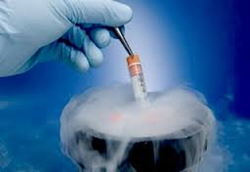 (PRWEB UK) 14 September 2014
BioEden's Group CEO Mr Tony Veverka takes the ice bucket challenge together with Chief Scientist Mike Byrom outside one of the companies laboratories in Texas.
Watched by fellow scientists the pair were 'volunteered' to take the ice bucket challenge and embraced it with good humour.
Although the icy temperature in the Texas sun came as quite a shock, it does not compare to the temperature at which the company stores the stem cells they extract from children's baby teeth. The stem cells are stored at temperatures so cold that they go into a state of suspended animation. The cells are held typically at - 195 degrees and effectively stop the ageing process.
Watch the video as Mr Veverka passes the challenge to Dr's Saadia and Saddia in BioEden Mexico and Professor Hunt in the UK.
https://www.dropbox.com/s/opze6ghgodvktyf/BioEden%20Ice%20Bucket%20Challenge.mov?dl=0