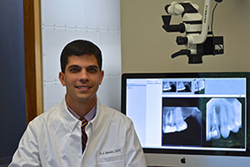 Jacksonville, FL (PRWEB) September 12, 2014
Dr. Allan Sandor helps his patients in Jacksonville, FL, protect their oral health through his use of Cone Beam Technology, a 3D imaging system that allows the endodontist to see facial nerves and bone structure clearly and create a customized treatment plan for each patient. In celebration of Self-Improvement Month this September, patients can benefit from visiting Dr. Sandor, who offers innovative methods to eliminate tooth pain and other dental issues.
An endodontist is a dental professional who has specialized training to treat the supporting structures of the tooth and the tooth pulp with advanced procedures and technologies. As an endodontist, Dr. Sandor is qualified to provide his patients in Jacksonville, FL with expertise beyond what a regular dentist can offer. He further improves the quality of treatment he provides by using advanced technology. X-ray technology has been around for decades, and it is the most common method dentists use to examine tooth and root structures to diagnose oral problems. X-rays expose the patient to higher doses of radiation, and the picture that is developed is not complete. Cone Beam Technology has a much lower dose of radiation to reduce the unnecessary exposure, and it provides clear digital pictures in less time and with less expense.
Safety and cost-effectiveness are not the only benefits of this imaging system. The images themselves provide the endodontist with details on the positions of nerves and other root structures, allowing Dr. Sandor to develop individualized treatment plans for his patients in Jacksonville, FL. This prevents any surprises once a procedure, such as a root canal, is already under way.
Dr. Sandor uses Cone Beam Technology to evaluate bone and nerve structures for the best placement of dental implants. Other oral health problems, including periodontal disease and mouth tumors, are more easily diagnosed and treated with the high-definition results. Patients who want to make positive oral health decisions during Self-Improvement Month this September can learn more about the services Dr. Sandor provides on his website.
About the Doctor
Sandor Endodontics is an endodontic practice offering patients modern treatment in performing root canals to save teeth in Jacksonville, FL. Dr. Allan Sandor completed his undergraduate studies at the University of Florida and received his dental degree from Marquette University, College of Dentistry in Milwaukee, WI. He was a dental officer in the United States Navy and completed a one year Advanced Education in General Dentistry at the Marine Corps Recruit Depot on Paris Island, SC. He was selected within the Navy for training in Endodontics and received his certificate from the University of Iowa, College of Dentistry. To learn more about Dr. Sandor, a published endodontist, visit his website at http://www.endodontistjacksonville.com and call (904) 302-9812.