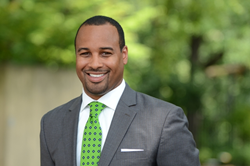 Together we can make Park Heights a stronger community and I look forward to the challenge
Baltimore, MD (PRWEB) September 15, 2014
Park Heights Renaissance (PHR) today announced that Cheo D. Hurley has been named interim President and CEO. Hurley replaces Julius "Julio" Colon, who recently resigned.
A Baltimore native, Hurley has been with the organization since 2009, most recently as Vice President for Community and Economic Development. In his new role, he will oversee all operations of the non-profit organization, including administration, community relations, finance, and real estate/economic development.
Said Board Chairman Larry Jennings, "Cheo has been with Park Heights Renaissance for more than five years and understands the community and the unique challenges and opportunities ahead. We feel confident that he is well prepared for this interim role as we begin the search for a permanent President and CEO. Additionally, Cheo has indicated to the Board he will be a candidate for the permanent position."
Hurley is a graduate of Howard University with an undergraduate degree in Finance. He also holds a Masters degree in Public Administration from American University and a Masters in Real Estate from the Johns Hopkins Carey School of Business. Locally he attended the Gilman School. Hurley is extremely active in the Baltimore community, serving on the Baltimore City Planning Commission, the Baltimore Educational Scholarship Trust (BEST) board of trustees, and was recently appointed to the board of public radio station, WYPR.
"I am grateful to the board for this opportunity and have high expectations for myself and the PHR staff," Hurley said. "Together we can make Park Heights a stronger community and I look forward to the challenge."
About Park Heights Renaissance
Park Heights Renaissance is a non-profit 501(c)(3) organization representing businesses, religious institutions, schools, agencies, and other stakeholders committed to shaping a better future for Park Heights. The geographic footprint of PHR is 1,500 acres -- almost twice the size of Central Park in New York -- comprising a diverse group of more than a dozen neighborhoods. The mission of Park Heights Renaissance (PHR) is to help implement the Baltimore City Park Heights Master Plan, drive land and economic development, and partner with human development organizations that are transformative influences in the revival of a thriving and sustainable community.