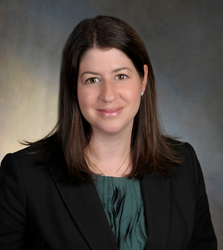 Berkeley Heights, NJ (PRWEB) September 15, 2014
Summit Medical Group is pleased to announce that Rebecca Levy, Esq., chief legal counsel, has been selected as a winner in NJBiz's "Forty Under 40" awards. This award celebrates 40 of New Jersey's most accomplished young businessmen and women who have been making news in their field and who share a commitment to business growth, professional excellence and the community.
In 2011, Ms. Levy joined the Summit Medical Group, P.A., as General Counsel. In this role, she has been deeply involved in negotiations of creative value-based managed care contracting, an additional 250,000 square feet of new space (including a joint venture of a new 8 operating room ambulatory surgery center) as well as legal oversight of all physician practice acquisitions, governmental affairs, the Human Resources Department and the Coding Compliance Department. She plays an active role in working with patient relations and risk management, and also serves as SMG's Compliance Officer.
In addition to her role as General Counsel of SMG, Ms. Levy serves as the Chief Legal Officer for Zoonie, providing legal oversight of Summit Health Management (SHM), an enterprise solution and management company. She also provides legal advice and counsel to Diamond Hill Insurance Holdings, LLC (a captive insurance entity), Medical Realty Associates, LLC, and Westfield Medical Properties, LLC (real estate holding companies).
Prior to joining SMG, Ms. Levy was a senior associate at Garfunkel Wild, P.C. where she provided legal representation to health care practitioners, hospitals and surgery centers, and many other institutional and non-institutional health care providers and vendors. Ms. Levy guided health care clients in developing new business lines with a focus on structuring such arrangements to ensure compliance with the federal Stark and Anti-kickback laws, as well as with the New Jersey "Codey Law". Ms. Levy has been named a New Jersey SuperLawyers "Rising Star" in 2010 and 2011.
An independent panel of judges scored each nominee on a specific set of criteria: professional accomplishments, leadership, vision and community service. Winners will be honored at the awards reception on Monday, September 29, 2014, 6 p.m., at the Palace at Somerset Park, Somerset, New Jersey.